Bike Cruise Croatia Cycle & Sail
How to combine the love of sailing and cycling in Croatia
How to Combine Cycling & Sailing on a Bike Cruise
Explore the coast by sail and by bike
This guided cycling and sailing tour in Dalmatia starts on Brač Island and ends in Omiš. The route takes in medieval towns, traditional villages, pine woods and ancient vineyards  by bike, and sail between picturesque islands, inlets arriving at wonderful serene bays and beaches where you can relax.
Highlights include cycling on the historic islands and exploring Mljet National Park. Croatia is a land of picturesque islands, rich history, Mediterranean vegetation and mild climate and one of the best ways to explore is by a boat cruise.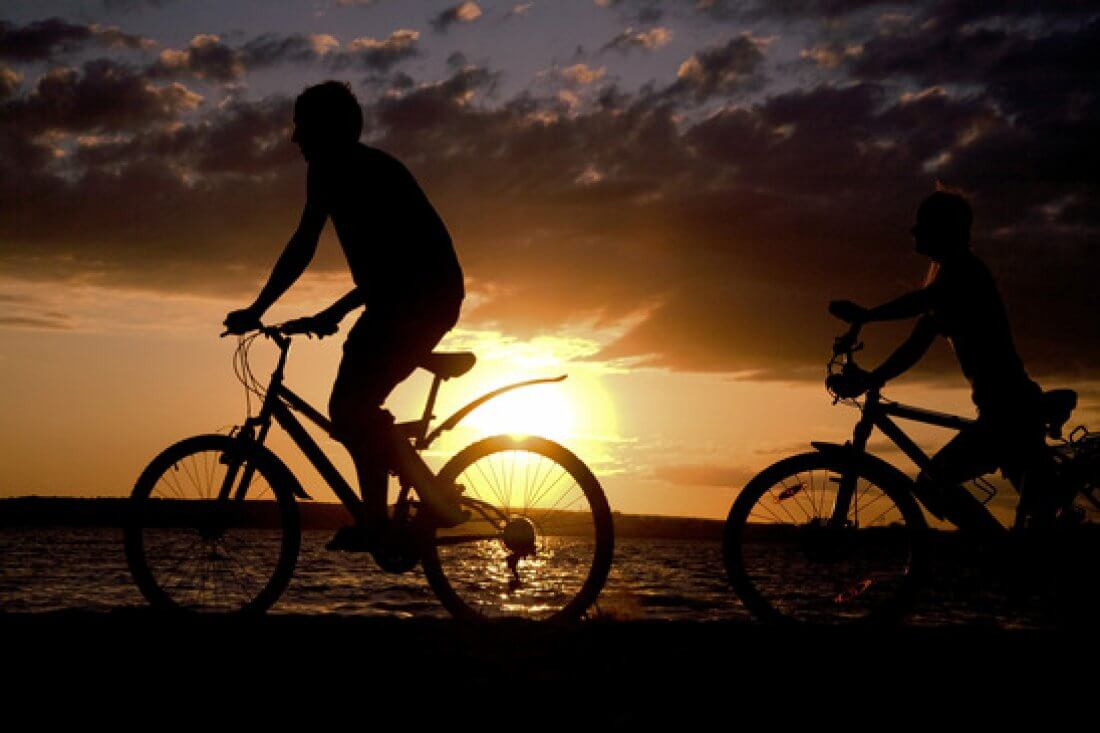 Join a 'Bike Cruise' on a Traditional Sailing Gulet
A new concept of combining sailing and cycling allows you to access much more of this great country than you would by either cycling or sailing alone.
The bike cruise can be organised from April to October in Croatia. You will sail and be accommodated on board a traditional sailing gulet.
What Can You Expect on Bike Cruise
Book a cabin, bring your biking shoes and explore ancient walled towns and sapphire waters  of  Croatia
On the bike cruise, you will have a professional and very experienced guide throughout. You will start your amazing bike cruise in Split and explore Brac, Hvar, Korcula, Mljet, Peljesac & Makarska and Omis. On this beautiful journey, you will be on board an A-Category cruise ship where the package includes: a cabin with private shower/toilet and continental breakfast & lunch or dinner according to the daily activities. A third bed in the cabins is possible on request, however, you will mostly find bunk beds in this type of gulet.
It is recommended that you bring biking shoes, backpack, extra clothes, rain/sun protection with you.
Important information on the bike cruise route and provisioning
The Cycling Route: The length of the daily cycling routes is just estimated and depends on various detours or short cuts that can be done on route. Please note that the cycling and sailing routes are sample and they may change on spot due to the weather conditions or the demand of the clients. The departure is during morning hours, mostly after breakfast.
Provisioning: Half board is served every day, including continental breakfast and either lunch or dinner. During the cycling routesyou should definitely stop by some local restaurants where you can taste the local specialties. There is a possibility to book a captain's dinner, which is paid directly on the spot and is offered by the captain and your tour guide.
The Itinerary
A fascinating route starting and ending in Split, with daily bike excursions.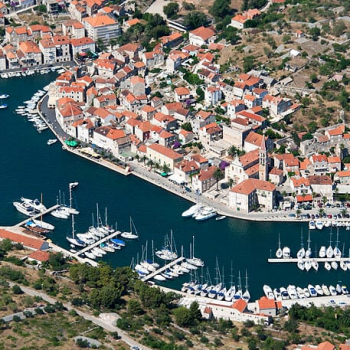 Day 1: Arrival in Split – Island Brač (Milna) (L)
Bike Course: Milna – Bobovišća NM – Milna
Distance: (approx 17 km)
Difficulty Level: 3
Surface: Paved, gravel
Inclination: Part hilly – part flat.
Highest point: 175 m
You will start your bike cruise at  13:00 from Split where you will have lunch aboard the gulet. During the two hour sail to the island of Brač, you will have plenty of time to meet your fellow passengers and the crew. On arrival in Milna, you will start the cycling tour to Bobovišća. This little hamlet, set on the western side of island Brač just under the top of the mountain, allows stunning panoramic views of the sea. There will be enough time for a relaxing coffee or a quick swim. On your return to Milna, you should try cycling along the coast. You will spend the night in Milna Harbour.
Day 2: Brač Island (B, D)
Bike Course: Milna – Bol
Distance: Approx. 43km
Difficulty Level: 5
Surface: Paved; a short path to Gažul village is gravel.
Inclination: Very hilly, partly flat, last 8 km downhill.
Highest point: 570 m
After your breakfast, the adventure will start with a long, yet fascinating route along the fig trees, the pine forests, the olive groves and the vineyards. After approximately 35 km of cycling you will have the chance to taste traditional food and wine at a little shepherd's village, Gažul, with houses made of stone in a very rustic landscape. After a refreshing break you still have another 10 km to get to Bol. The breathtaking panoramic views of the  island of Hvar on you descent to the beach at Bol are well worth the effort of the ascent. In Bol you should visit the Golden Horn beach. Overnight in Bol.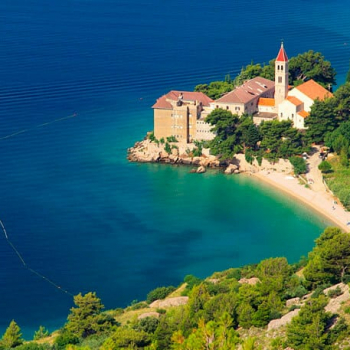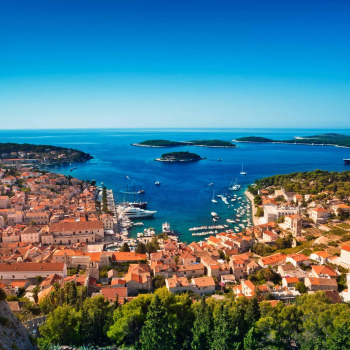 Day 3: Hvar Island (B, L)
Bike Course: Jelsa – Stari Grad – Hvar
Distance: Approx 33 km
Difficulty level: 4
Surface: Paved, gravel
Inclination: Flat on the way to Starigrad, hilly from Stari Grad.
Highest point: 415 m
The island of Hvar is mostly famous for its multicoloured rosemary and lavender fields. The biking tour will take you through some small settlements, large green fields and blossomed vineyards from Jelsa to Vrboska and then you will continue your trip via an old road towards Stari Grad where you will have a short break to relax. Stari Grad is one of Croatia's oldest towns, dating back to 385BC when it was a Greek colony with the name Faros. On the way to Hvar, you will pass through the village of Grablje, a very wealthy place known for its quality wine, honey, olive oil, and lavender, and the village of Brusje. Your cycling will end to the historical city of Hvar where you can climb up to the Španjol, a citadel built on the site of a medieval castle. Overnight in Hvar.
 Day 4: Korčula Island (B, D/L)
Bike Course: Vela Luka – Korčula
Distance: 44 km or Račišće – Lumbarda – Korčula 24 km
Difficulty Level: 3-4
Surface: Paved Inclination: Partly flat, partly hilly, last 5 km downhill.
Highest Point: 500 m
The island of Korčula is the sixth largest Adriatic island. Rich in vineyards, olive groves, and small villages, and harbouring a glorious old town. The peaceful and secluded gardens of Cypress trees make Korčula perhaps the most beautiful of the Adriatic islands.  Quiet coves and small sandy beaches dot the steep southern coast while the northern shore is flatter and more pebbly.
People who love culture and tradition will enjoy plenty of events in Korčula, with old religious ceremonies, folk music and dances that will transport you back in time. Overnight in Korčula.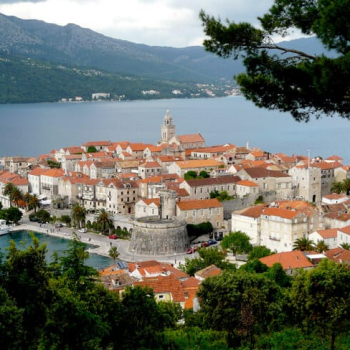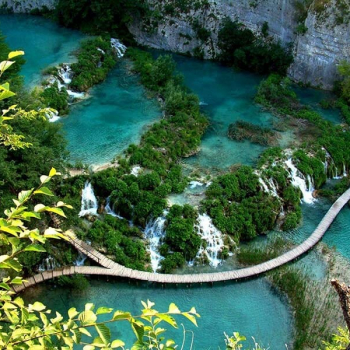 Day 5: Mljet Island National Park (B, L)
Bike Course: National park Mljet
Distance: 15 km
Difficulty Level: 1
Surface: Paved, gravel
Inclination: Flat.
Highest point: 65 m
While you enjoy your breakfast you will sail to Mljet, the Honey Island. The Mljet National Park is a beautiful area of unique charm, and outstanding natural beauty featuring two connected salty lakes – the Great Lake, which covers an area of 145 ha, with a depth up to 46 m and the Small Lake with an area of 24 ha and a maximum depth of 29 m. You will cycle around the saltwater lake, in which there is actually another island where Benedictine, back in the 12th century, built a monastery. It is beautifully secluded and surrounded by pine and oak forests. After lunch, you can take a swim into the Small Lake or take another ride around the lakes. Overnight in Pomena (Mljet).
Day 6: Pelješac Peninsula & Makarska Riviera (B, L)
Bike Course: Kučište – Orebić – Lovište
Distance: 30 km
Difficulty level: 4
Surface: Paved Inclination: Partly flat, party hilly to very hilly, last 6 km downhill.
Highest point: 270 m
After a relaxing breakfast on deck you will enjoy the sail towards the Pelješac Peninsula. The ride here is not an easy one, but you will definitely enjoy the beautiful landscape. The cycling will lead you into the backcountry and to the most famous wine growing area. You will reach a viewpoint where the extraordinary views over Korčula's old town on the other side opens up.
If you feel tired and want to take a break and relax, you can rejoin the ship in Orebić, the town of sea captains and sailors. Iyou'reur feeling energetic enough, you can continue towards Lovište, on a ride of approximately 18km, where you will have lunch onboard. In the afternoon, you will sail to the popular holiday resort in Makarska Riviera. Overnight in Baška Voda or Makarska.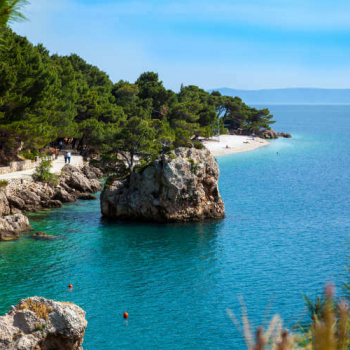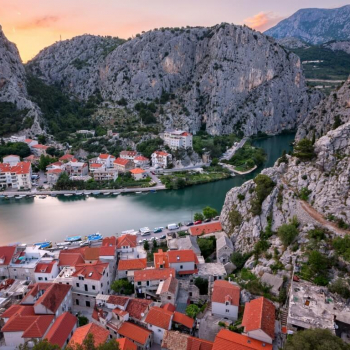 Day 7: Omiš & Split (B, L)
Bike Course: Omiš – Radmanove Mlinice – Omiš
Distance: Approx 12 km)
Difficulty level: 1
Surface: Paved Inclination: Partly flat, partly hilly.
Highest point: 160 m
Enjoy your breakfast before starting the last ride of this great Dalmatian Coast adventure, this time to the Radman's Mills.  Radman's Mills is a popular resort where you can admire the beautiful Natural Park and the canyon of the Cetina river and where you can also see  stone mill wheels dating from the 17th century. On the return to Omiš, visit the Mirabella fortress. The view from there stretches over the entire Channel of Brač island. After your lunch, the ship will lead you back to the monumental city of Split which is under UNESCO's protection and it is a part of our World's heritage. In Split you will find an abundance of building with Roman architecture; don't miss the Diocletian palace. Overnight in Split.
Availability and Prices
Book early to secure your place onboard
The Bike Cruise is offered on guaranteed departures from April to October except for July and August. The prices differ from week to week so please contact us for more information.
April : Prices from €425/p.p. per week
May: Prices from €480/p.p. per week
June: Prices from €510/p.p. per week
September: Prices from €510/p.p. per week
October: Prices from €425/p.p. per week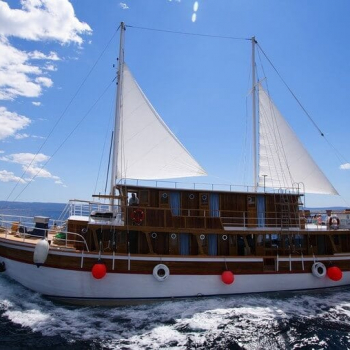 Your Valuable Comments
Tell us what you think. We love hearing and responding to your comments, no matter how small or trivial. Go on, find out what we have to say!
[fbcomments]
May I help?
SailChecker offers a wide range of Cabin Charter globally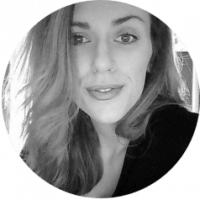 Hear What SailCheckers Say
I loved the sailing but diving in the British Virgin Islands was truly amazing. I had never done anything like that before.

A "Try Dive" was aranged in for guests advance, all the forms were was allready sorted

USA

We booked a family adventure. I hadn't sailed since I was a little girl. It was amazing seeing the looks on my kids faces!

SailChecker.com advised and booked her family vacation to the BVI in 2012.

USA


 Thank you sooo much!

It was sail in the day… party at night. We couldn't have wanted a better skipper or a Spring Break!  Good times...

Arranged for 6 friends to sail Spring Break in the British Virgin Islands for under $500 each.

USA

Tell us about your bike cruise requirement or ask a question
We can't wait to hear from you!
Safe secure bike cruise holidays worldwide
Saling in More Than 350 Destinations Worldwide
Book with a partner or join one of ours!