International Certificate of Competence (ICC)
International Certificate of Competence (ICC) the Comprehensive Guide ICC Will Allow You to Bareboat Charter Worldwide
International Certificate of Competence What is it and Where is it Accepted?
International Certificate of Competence (ICC) - A Structured Sailing Course
International Certificate of Competence is a Structured Sailing Course developed by the IYT, Accepted for Bareboat Charter Worldwide, including yacht charter in Croatia, Yacht Charter in Greece and yacht charter in the Caribbean.
We have teamed up with one of the world's biggest charter operators to offer a fun and interesting way to gain your bareboat charter qualifications. The final award is the higher qualification of INTERNATIONAL BAREBOAT SKIPPER (POWER OR SAIL) with which you automatically qualify for the lower, yet more widely known, "INTERNATIONAL CERTIFICATE of COMPETENCE (ICC).
International Yacht Training Organization (IYT)
Accepted for Bareboat Charter Worldwide
IYT certificates are accepted worldwide and will allow you to charter a boat on your own upon successful completion of the course.
What, Where, Who?
The 2-week sailing course is held along the Croatian Coast of Mediterranean, starting at Seget Donji, in the glorious Split region. All the sailing instructors are highly professional and experienced skippers. The boats used for the course are new, comfortable and modern.
When?
This specific course is only available for selected dates in April and October, however, if you are only available during another month, please contact us and we will be sure to provide you with information about one of our alternative courses.
The Qualification
On successful completion of the course, you will receive an International Bareboat Skipper License (Power or Sail), issued by the International Yacht Training Worldwide Organization (IYT).
After obtaining this qualification, you can take the ICC test at the end of the two-week course and only pay the exam fee on spot or in advance.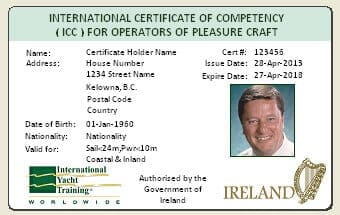 Top Questions About an International Certificate of Competence
How does a sailing course look in practice?
Assemble
Courses start on Saturday's. The Crew meet at Seget Donji, where you get board the yachts and get acquainted with the other members of the crew.
In the evening, you are free to have dinner out in a restaurant or prepare a meal on the yacht.  After that, you can enjoy a walk and maybe buy some souvenirs.
Briefings
On Sunday morning the safety brief and more about the yacht itself: water system, toilet, what may be and may not be done on board, get to know the safety rules, internal space of the boat and your route for the 2 following weeks. You will, then, do the shopping for the provisioning (victualling)  as a crew.  Having filled in the fridge and ensure there are plenty of drinks aboard enough drinking water, you are ready to embark your sailing adventure.
During the two weeks, your instructor will teach you the rules of sailing and everyone will start speaking in the same terminology. Learn something about bearing away on this blog.
Typical Day
A typical sailing day starts by calling the hands around 8 am. At 9 you enjoy your breakfast on the deck and prepare for the sailing. Why not rise early and have a walk at the closest coast, swim or a little morning exercise. This will boost your levels of energy and set the mood for a day.
You will enjoy up to 2 hours of theory each day with plenty of opportunities to put new knowledge into practice. During the week, each of the crew will have  time to practice all the tasks and to try themselves in the role of skipper by giving tasks and orders on their own and managing the crew.
Save with your new qualification
At the end of two weeks, after successful completion of the course, you will finally receive your awaited Bareboat Skipper License and a completely new world will be open in front of you. Each of our students will be able to return and receive additional practice or rent a bareboat at a special "Sailing School Student" price with our partners.
What language is used during the course?
Currently, all the courses are held in English, including the sea terminology. However, there is a possibility to hold the courses in Russian or Croatian, as well, in case a Russian or Croatian-speaking group is formed. In this case, English terminology will be added to the programme. English knowledge is not required for learning the terminology in English.
Certificate Limitations
Command of a vessel up to a maximum length of 78 ft /24 metres.
In daylight hours and in fair conditions with moderate wind and sea conditions.
This certificate is the level of competence that one needs when chartering a boat in the Mediterranean or West Indies where there are restrictions in terms of cruising area and distance from the base and the vessel has to be safely moored in a marina or anchored before dark.
The Sailing School provides an opportunity to people of all backgrounds and ages to find out how fun, safe, inspiring and affordable sailing is!
Which boats are used?
The yachts selected for the courses will vary. In general, they will be the newer more popular models from the fleet.
Take a look at the boats, below:
Jeanneau Sun Odyssey 439 - Fama
Year: 2013
Cabins: 4
Heads: 2
Berths: 10
Which boats are used?
Jeanneau Sun Odyssey 439 – Malin
Year: 2013
Cabins: 4
Heads: 2
Berhts: 10
Which boats are used?
Beneteau Oceanis 43 - Kundry
Year: 2011
Cabins: 4
Heads: 2
Berhts: 10
Cost: from €2,340 p.p. (excl. flights and provisioning)
The total price excludes your flights and subsistence whilst on board or ashore. Expenses for food do depend on your personal preferences; budget around €25/day.
Included:
A berth in a cabin for 2 weeks (50% surcharge applicable for single use)
Transfer from/to Split airport
Free parking at the marina
Instructions and learning material for the courses (Introduction to boating & International Crew, International Flotilla Skipper and Bareboat Skipper)
Welcome package
Full water tanks, electricity, and gas
Outboard engine & fuel
Mooring fees
Bed sheets and towels
Snorkeling equipment
Final cleaning
Free Wi-Fi Internet on board
IYT Certificate (ID card type)
Delivery of the Certificate to your home address
Excluded:
Optional extras:
VHF certificate – €100
Logbook – €50
Dinner celebration at the end of the course in a restaurant (upon agreement)
Can I take my family members or friends with me?
Yes! There is an option of booking the whole boat for your family or friends, only. In this case, the group will be closed and no one except for your family or friends will participate in the course. The minimum number of people required is 3, as 3 crew members and the skipper is the optimal number to drive the boat.
Group of 3 – 5 people/
Price: €5,500/ 2-week course.
You may also invite your partner to join you on board. She/he is welcome either to support you in your beginnings and enjoy the sea or to be a full-time member of the course.
1+1 proposal*
Price: €1,080/ 2-week course (partner's price)
*Full payment in advance is required.
What to pack for 2 weeks on board?
Try to keep your list as simple and short as possible. The needs vary, depending on the season. During the hot season period (till 15th of Sept.) the following list will be ideal:
Personal hygiene products
Personal first-aid kit and sunblock cream
Sailing gloves
Non-slip shoes or boots
Windbreaker jacket with a hood
Fleece jacket
Light t-shirt short sleeved and long sleeved
Sunglasses
Shorts, swimsuits
Flip flops. However, even at warm destinations the open sea can get rough.
You can also find our ultimate guide on what to pack for a sailing holiday here.
What does the test entail?
The test for obtaining the IYT Bareboat Skipper Sail is divided into the theoretical and practical part.
The theory consists of 50 questions which you have to answer in written form. All the questions are based on the knowledge which you have obtained during the course itself. Each question is valued from 1 to 5. The minimum passing number is 75 in total.
How long does the certifcate last?
All the IYT Certificates have an expiration date according to the international standards and have to be renewed every 5 years. After you have completed the course, we will ask you to register at the IYT website and you will receive your unique code number. Upon 5 years, you will have to update your personal information on the website and order a new certificate, which will arrive at your home address. The price of certificate renewal may vary slightly.
Amazing Sailing Experiences
Our Amazing Customers

Great family vacation.


I didn't think sailing with my family would be so much fun...

Sailing for the first time.

USA


I recommendate them !

Everything went smooth, the paper processing, special requests and the specs of tht check-in procedure. Boat was also in good shape, so no complaints and a worry free holiday...

We had a great experience with booking through sailchecker.

<read more>

USA


Great service from Kate.

Informative and looked for the best value for our family. Very good customer service on this side and in Greece. Great boat and skipper...

Fantastic holiday from start to finish.

<read more>

United Kingdom


Very professional outfit!


They were very responsive and very quick to answer questions via email and instant chat. They had extensive knowledge of the area...

We will most definitely use their services for our next bareboat sailing vacation.

<read more>

USA


Sail checker were professional from start to finish - we wouldn't book through anyone else!

Sailchecker were professional from start to finish - and were awesome dealing with a problem! Our first Yacht had serious issues and sail checker helped us to resolve it...

They are easy to deal with, straightforward and honest and I would recommend them to anyone planning a charter holiday.

<read more>

UK


Coronavirus pandemic support has been brilliant!

During the Coronavirus pandemic, Kate and her colleagues at Sailchecker have performed brilliantly. They have been considerate and highly efficient in re-organising our Turkey charter and also provided lots of assistance in getting our Yacht Security Deposit insurance policy transferred to match our revised charter dates.

Truly worthy of a 5 star rating!

<read more>

UK

Sailing is the perfect family holiday.

Would I go sailing again? OMG yes! Sailing is the perfect family holiday. Boys loved the activities, I enjoy relaxing as well...

Sailchecker.com arranged a sailing cruise her family of 2 sons, daughter & hubby in the BVI with their own.

USA


 Thank you sooo much!

It was sail in the day… party at night. We couldn't have wanted a better skipper or a Spring Break!  Good times...

Arranged for 6 friends to sail Spring Break in the British Virgin Islands for under $500 each.

USA


We had an absolute blast !!

All bookings and confirmations was always accurate with no delays. Our boat was also fabulously maintained and the Skipper new the area extremely well...

Everything was down to the tee.

<read more>

Netherlands