Yacht Charter Spain
Discover a land full of charm with sandy beaches and beautiful marinas.
Why a Yacht Charter in Spain?
Sailing in Spain offers the chance to discover a landscape full of charm and character, with sandy beaches and many beautiful marinas.
A land on the crossroads between Europe and Africa, Spain, is well known for its erotic Flamenco music and bull-fights, however, the country also offers beautiful architecture, rich history, diverse culture and beautiful crystal clear waters.
Whether you prefer to explore the coastline or the islands, we can ensure that you'll have a fantastic time.
Where to sail?
In Spain, you can find many great areas to sail. Whether you prefer to sail across its coastline or you are keen on exploring the Balearics or the Canaries, there are many beautiful routes to follow. You will find almost 8,000 kilometres of coastline, excellent weather (especially from March to October), more than 300 marinas, a host of mooring options and Marine Resorts, fully equipped with everything your may need.
The Balearics is probably the most famous destination in Spain. You will find great sailing conditions, with fairly light wind and many lovely anchorages. If you're in a hurry, you can explore most of the area in two weeks; four weeks allows for a more thorough cruise. There are frequent cheap flights from all islands to most European destinations during summer and all year round from Mallorca.
The Spanish Mediterranean Coast is an easy sailing area, ideal for beginners. You will find numerous idyllic bays and beautiful cities to explore. The Spanish coastline is very diverse and offers a variety of landscapes. There are cliffs and sandy beaches, fertile farmlands, craggy mountains, olive groves and rocky coves. The Spanish Mediterranean coast can be divided into 3 charter areas: the region of Barcelona in the north, the coasts of Valencia and Alicante in the middle, and the area around Malaga and Marbella in the south.
Each of the coastal regions has its own unique character. The north-eastern part of the Spanish Mediterranean coast is the Costa Brava.
The 220 km long "Wild Coast" is steep and often rugged, with numerous picturesque bays, headlands and beaches. Many of the bays can only be reached by boat, such as: in the area of the Cap de Begur Cadaques, the peninsula with the Cap de Creus and the area between Tossa de Mar and Sant Feliu de Guixols. The Costa Dorada or "Gold Coast" runs between Cunit and Alcanar and has many long, sandy beaches. It is definitely worth visiting the Catalonian capital of Barcelona. Further south is the Costa del Azahar which includes the coastal area around Valencia. Because of the many orange groves in the region, it is named the "Orange Blossom Coast".
The location of the Canary Islands in the Atlantic, just off the coast of Africa, offers perfect sailing conditions and weather conditions. There are only very few places in the world that offer optimum sailing conditions all year round. The Canary Islands is one such place, not just because of the pleasant temperatures and the constant winds that blow even in the winter months, but also because of the safety of this European destination both when the boat is moored in the harbour and when at sea. Added to this is the wide and varied range of facilities and services, providing sailors of all boat types with everything needed for their voyage. You can sail around the islands and visit traditional fishing towns or remote beaches and coastal areas. At the marinas near the capital cities,  you will find great nightlife, restaurants and large shopping centres. There are good facilities for yachts on all the islands, but particularly on the larger ones of them.
Bareboat Yacht Charter Spain
If you already have a valid qualification, you can easily bareboat charter in Spain, as your experience will be enough to validate. Even if you only have your qualification for a few months, you are able to sail without any assistance. Sometimes, the operators require a minimum level of experience, even if you do have your license.  In this case, they can provide you with a free member of their crew for just a few hours, in order to show you the basics and ensure that you can handle the yacht yourself.
With numerous certified partners that are ready to offer you access to their great fleets, we are more than certain that we will find the perfect bareboat charter for you in Spain. You can learn more about how the bareboat charter works here. You can send us your request either by sending an email to info@sailchecker.com or leave your enquiry here. An experienced Yacht Charter Consultant will be in touch shortly.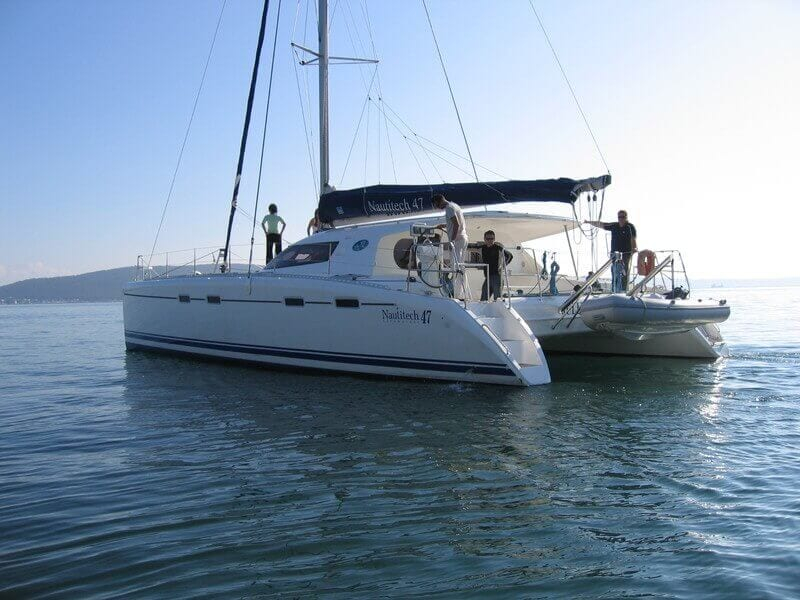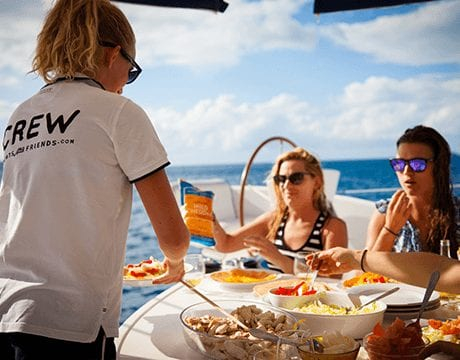 Crewed Yacht Charter Spain
Do you want to sail in Spain, but you don't have the essential qualification? No worries – we can find you the perfect crewed charter. We can simply add a skipper that will be with you and sail the yacht in the areas. You can prepare an itinerary yourself or compile your ideas with the ones of your knowledgeable captain hence creating the perfect route.
What's more, we can even add a hostess or a chef to take care of the yacht and prepare the meals and drinks for you, while you enjoy the trip. Many people think that the crew can be hired only on luxury yachts; this is not true. You can choose the yacht of your liking, that perfectly meets your criteria and simply request for the crew.
You can learn more about the crewed yacht charter and how it works here. You can send us your request either by sending an email to info@sailchecker.com or leave your enquiry here. An experienced Yacht Charter Consultant will be in touch shortly.
Early Booking Yacht Charter Spain