Whitsundays Sailing Itinerary
White Sands, Crystal Beaches, Smooth Seas
Our Guide to Sailing in Australia's Jewel in the Crown
Whitsundays Sailing Itinerary & Guide. The Australian Whitsunday Islands comprise 73 continental islands right at the heart of Queensland's Great Barrier Reef.
Great Barrier Reef. Sheltered by the Great Barrier Reef, the tranquil ocean surrounding the Whitsunday promises ideal sailing conditions. Our Whitsundays sailing itinerary includes stops at the very best populated and lesser known island getaway spots. The Whitsundays are a play park for water sports and adventurous outdoor activities.
Green and Sheltered. More than seventy tall, green islands shelter inside the Great Barrier Reef. A national park afloat in the Coral Sea where the sand between your toes is as soft as silk.
Hamilton Islands. Airlie Beach on Hamilton Islands are the main area for charters in the Whitsundays.
Lindermand Island. The most southerly island of the Whitsundays, 20 miles (32km) from the coast.
Nara Inlet. The Nana Inlet on Hook Island offers a number of anchorage options and is a popular first or last night stopover destination.
… the sand between your toes is as soft as silk…
Quick Links
Sailing Itinerary Whitsunday Islands
Locals Choice. We sought the guidance of locals so we can offer a Whitsundays sailing itinerary that takes in the island's most stunning beaches and white sandy coves.
National Park. Nestled on National Park land, the principal 17 Whitsunday Islands cater to whatever outdoor and water activities you crave.  You can Snorkel amongst tropical fish. Hike across rough terrain. Swim the pristine turquoise waters, or camp out against the backdrop of a lush green rain forest.
We love to Hear From You. The Whitsunday Islands provide calm, smooth, seas; perfect for sailing.

Prices. Typically you can sail for $495 AUD / €345 EUR/ £305 GBP/  per person – Family (2 adults, 2 children) (01 Aug 2016 and 31 Mar 2017)
Whitehaven – Pristine Beach Stretching Over 5km
Moor Your Boat in Tongue Bay & Enjoy the Breathtaking Views Over Hill Inlet
Day 1
Abell Point → Macona Inlet (13.53 NM)
Begin your amazing Whitsundays sailing itinerary trip by departing port at Abell Point marina. Spend your morning cruising down past Pioneer Point and across the Whitsunday passage. Gaze at the stunning native Queensland pines that line the bay. Anchors down at your first destination: Hooks Island. You might choose to relax and explore the secluded beach on Macona Inlet. Perhaps you would prefer to throw out your fishing line and catch your dinner. Bunker down in your berth and enjoy gentle swaying as you fall asleep: exhausted from your exciting day.
Day 2
Macona Inlet → Bali Hai (Black Island) (4.21 NM)
On the next leg of your Whitsundays sailing itinerary journey, you will sail from Hooks Island to tiny Bali Hai (Black Island). Here- you can take introductory or refresher lessons from snorkelling experts amongst the marine life in calm, shallow waters. Enjoy a sumptuous meal at the local picnic spot. You could end your marvellous day watching the world renowned sunset at nearby Stonehaven.
Day 3
Stonehaven → Saba Bay (1.6 NM)
Once in Saba bay, you could explore dark deep hidden caves. Or go on a treasure hunt for Saba Bay's magnificent corals and local clams. Stunning locations offer you some amazing snorkelling opportunities. Scuba dive the Great Barrier Reef's underwater marvels. Treat yourself to dinner at a luxurious local resort or dine with locals in a beautiful villa overlooking majestic cliffs.
Day 4
Saba Bay → Cid Harbour (2 NM)
Your Whitsundays sailing itinerary will see you sail back through the Hooke passage to the enormous Cid Harbour. You might want to just relax and soak up the sun's rays on one of magnificent island beaches. Discover native rock art. If you are feeling energetic, walk the 2.5km track that leads from Sawmill beach to the Whitsundays Peak. You can explore the dry creek along the way. Relish the outstanding panoramic view at the peaks summit.
Whisundays' Beaches are Truly Breathtaking
Brilliant Silica Sand That is Among the Purest in the World
Day 5
Cid Harbour → Hamilton Island (6.23 NM)
Your next Whitsundays sailing itinerary stop is the bustling resort island of Hamilton where you'll find plenty of stores to explore such as local art gallery, bakery, chemist and fashion. Hire a golf buggy to explore the island. Let someone else cook dinner at one of the island's many restaurants. You can choose between a cosy cafe meal or a world renowned restaurant dish. Hamilton Island's lookout offers an amazing sunset.
Day 6
Hamilton Island → Lindeman Island (7.3 NM)
Known as the bushwalkers island, why not explore one of Lindeman Islands 19 km of meticulously maintained walking trails. You might prefer to bird watch for any of the 90 species that occupy the mangroves or visit the shoreline to see a humpback whale or dolphin frolicking in the sea.
You could zip and visit any of the bubbling resorts' endless activities: scenic flights, jet skis, water polo, aqua-gym, and bungee bounce to name a few. End your day with an invigorating body wrap and relaxing massage at the spa.
Get Our Downloadable Guide to Sailing in the Whitsundays
Download a PDF Version of Our Whitsunday Sailing Itinerary and Guide:
[optinlocker]
Click here to view or download
[/optinlocker]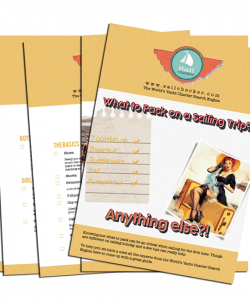 Day 7
Lindeman Island → Daydream Island (17.08 NM) → Abell Point Marina (5.81 NM)
Visit the man-made wonder lagoon and aquarium where you can experience what it feels like to touch baby sting-rays and sharks. You can view the marine life in its natural habitat by taking a ride on the glass bottomed boat. Your Whitsundays sailing itinerary delivers you an endless supply of island eateries to choose from. You might enjoy a film at the outdoor cinema before you head back towards Abell Point Marina for your final idyllic sail.
Indicative Yachts and Prices
Whitsundays Sailing Itinerary
*All prices are per boat, for one week. For more yacht options and exact prices, please contact us info@sailchecker.com
Amazing Sailing Experiences
Our Amazing Customers

Great family vacation.


I didn't think sailing with my family would be so much fun...

Sailing for the first time.

USA


I recommendate them !

Everything went smooth, the paper processing, special requests and the specs of tht check-in procedure. Boat was also in good shape, so no complaints and a worry free holiday...

We had a great experience with booking through sailchecker.

<read more>

USA


Great service from Kate.

Informative and looked for the best value for our family. Very good customer service on this side and in Greece. Great boat and skipper...

Fantastic holiday from start to finish.

<read more>

United Kingdom


Very professional outfit!


They were very responsive and very quick to answer questions via email and instant chat. They had extensive knowledge of the area...

We will most definitely use their services for our next bareboat sailing vacation.

<read more>

USA


Sail checker were professional from start to finish - we wouldn't book through anyone else!

Sailchecker were professional from start to finish - and were awesome dealing with a problem! Our first Yacht had serious issues and sail checker helped us to resolve it...

They are easy to deal with, straightforward and honest and I would recommend them to anyone planning a charter holiday.

<read more>

UK


Coronavirus pandemic support has been brilliant!

During the Coronavirus pandemic, Kate and her colleagues at Sailchecker have performed brilliantly. They have been considerate and highly efficient in re-organising our Turkey charter and also provided lots of assistance in getting our Yacht Security Deposit insurance policy transferred to match our revised charter dates.

Truly worthy of a 5 star rating!

<read more>

UK

Sailing is the perfect family holiday.

Would I go sailing again? OMG yes! Sailing is the perfect family holiday. Boys loved the activities, I enjoy relaxing as well...

Sailchecker.com arranged a sailing cruise her family of 2 sons, daughter & hubby in the BVI with their own.

USA


 Thank you sooo much!

It was sail in the day… party at night. We couldn't have wanted a better skipper or a Spring Break!  Good times...

Arranged for 6 friends to sail Spring Break in the British Virgin Islands for under $500 each.

USA


We had an absolute blast !!

All bookings and confirmations was always accurate with no delays. Our boat was also fabulously maintained and the Skipper new the area extremely well...

Everything was down to the tee.

<read more>

Netherlands