Sailing The Clear Blue Waters Of Turkey's Lycian Or Carian Coast On A Turkish Sailing Vacation Is An Experience That Every Sailor Should Be Lucky Enough To Have At Least Once In His Or Her Lifetime
Why a Yacht Charter in Turkey?
There is a timeless ambience to this part of the world that makes it one of the most relaxing destinations on Earth – somewhere to re-charge the batteries in sublime surroundings.
Over the course of Turkey's long and beautiful summer, the good winds and moderate seas make an exploration of the deep water bays and mountainous coastline of southern Turkey, with its historic sites, sleepy fishing villages and bustling towns, a sailing vacation to remember.
On top of these, the Turkish coastline can be combined with sailing in the Dodecanese Islands, in Greece, making this destination ideal for people who seek adventure and exploring.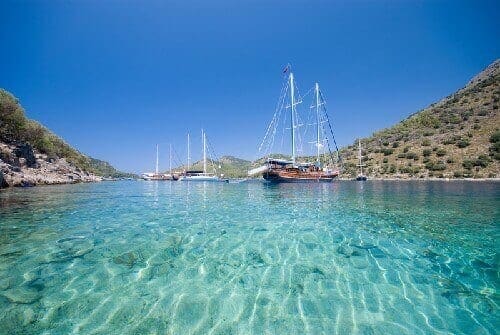 Top 4 Things to Know About Sailing in Turkey
Yacht Charter Turkey
Where to Sail in Turkey - Carian
In Turkey, the most common areas to sail are the Eastern Carian, the Western Carian and the Western Lycian which offer the perfect sailing experience to all the sailors – from the minimum to the highest level of difficulty.
The Carian offers a contrasting scenery, from the lush greens of the Gokova Gulf to the more arid southern area. The area is bounded by two large resorts in Bodrum and Marmaris, but most stops are one restaurant bays or villages, with just a couple of towns in the area for provisioning.
There are beaches ranging from sand to pebble, a significant archaeological site at Knidos and plenty of traditional cultural attractions such as carpet making and boat building.
Most of the sailing there is considered as easy. Around the peninsula headlands, seas can be a little turbulent but you'll soon be through. Heading to the west you'll quite often find winds on the nose. In general, the level of sailing is easy to moderate.
Yacht Charter Turkey
Where to Sail in Turkey - Western Lycian
The Western Lycian sailing itineraries are centred around Gocek Bay and Fethiye Bay. This compact sailing area is ideal for newly qualified skippers or less experienced crews.
Gocek Bay is just 8 miles from top to bottom and is lined with coves and inlets, each with their own restaurant, along the west and south sides. It's only 12 miles from here to the east side of Fethiye Bay with a couple of smaller bays just a few miles further east towards Olu Deniz.
There are many places to visit in such a small area. Some are naturally lucky, with an abandoned village near Cold Water Bay, rock tombs at Tomb Bay, and ruins at Tersane, at Gemiler near Karacaoren and opposite Wall Bay. Others lay on traditional barbers or offer a food speciality.
Wherever you chose you can be assured of a warm welcome from the locals for whom nothing is too much trouble.
Yacht Charter Turkey
What Qualification to you Need to Yacht Charter Turkey
If you already have a valid qualification, you can, easily, bareboat charter in Turkey, as your experience will be enough to validate. Even if you only have your qualification for a few months, you are able to sail without any assistance. Sometimes, the operators require a minimum level of experience, even if you do have your license.  In this case, they can provide you with a free member of their crew for just a few hours, in order to show you the basics and ensure that you can handle the yacht yourself.
With numerous of certified partners that are ready to offer you access to their great fleets, we are more than certain that we will find the perfect bareboat charter for you in Turkey. You can learn more about how the bareboat charter works here. You can send us your request either by sending an email to info@sailchecker.com or leave your enquiry here. An experienced Yacht Charter Consultant will be in touch shortly.
Crewed Yacht Charter Turkey
Crewed Yacht Charter turkey
Do you want to sail in Turkey, but you don't have the essential qualification? No worries – we can find you the perfect crewed charter. We can simply add a skipper that will be with you and sail the yacht in the areas you wish since you can prepare an itinerary yourself or compile your ideas with the ones of your knowledgeable captain and create the perfect route.
What's more, we can even add a hostess or a chef to take care of the yacht and prepare the meals and drinks for you, while you enjoy the trip. Many people think that the crew can be hired only on luxury yachts; this is not true. You can choose the yacht of your liking, that perfectly meets your criteria and simply request for the crew.
You can learn more about the crewed yacht charter and how it works here. You can send us your request either by sending an email to info@sailchecker.com or leave your enquiry here. An experienced Yacht Charter Consultant will be in touch shortly.
Early Booking Yacht Charter Turkey
Amazing Sailing Experiences
Our Amazing Customers

Great family vacation.


I didn't think sailing with my family would be so much fun...

Sailing for the first time.

USA


I recommendate them !

Everything went smooth, the paper processing, special requests and the specs of tht check-in procedure. Boat was also in good shape, so no complaints and a worry free holiday...

We had a great experience with booking through sailchecker.

<read more>

USA


Great service from Kate.

Informative and looked for the best value for our family. Very good customer service on this side and in Greece. Great boat and skipper...

Fantastic holiday from start to finish.

<read more>

United Kingdom


Very professional outfit!


They were very responsive and very quick to answer questions via email and instant chat. They had extensive knowledge of the area...

We will most definitely use their services for our next bareboat sailing vacation.

<read more>

USA


Sail checker were professional from start to finish - we wouldn't book through anyone else!

Sailchecker were professional from start to finish - and were awesome dealing with a problem! Our first Yacht had serious issues and sail checker helped us to resolve it...

They are easy to deal with, straightforward and honest and I would recommend them to anyone planning a charter holiday.

<read more>

UK


Coronavirus pandemic support has been brilliant!

During the Coronavirus pandemic, Kate and her colleagues at Sailchecker have performed brilliantly. They have been considerate and highly efficient in re-organising our Turkey charter and also provided lots of assistance in getting our Yacht Security Deposit insurance policy transferred to match our revised charter dates.

Truly worthy of a 5 star rating!

<read more>

UK

Sailing is the perfect family holiday.

Would I go sailing again? OMG yes! Sailing is the perfect family holiday. Boys loved the activities, I enjoy relaxing as well...

Sailchecker.com arranged a sailing cruise her family of 2 sons, daughter & hubby in the BVI with their own.

USA


 Thank you sooo much!

It was sail in the day… party at night. We couldn't have wanted a better skipper or a Spring Break!  Good times...

Arranged for 6 friends to sail Spring Break in the British Virgin Islands for under $500 each.

USA


We had an absolute blast !!

All bookings and confirmations was always accurate with no delays. Our boat was also fabulously maintained and the Skipper new the area extremely well...

Everything was down to the tee.

<read more>

Netherlands