How Does Yacht Charter Work
Our Tips and Hints on Chartering a Yacht and how it Works
Amazing Sailing Experiences
Choosing the Right Yacht for you
Frequently Asked Questions
What happens when you charter a yacht? There are three main types of charters:
Bareboat Charter. Bareboat Charter is an agreement between a Yacht Owner or a Fleet Operator (chartering the boat on the owner's behalf) that gives the charterer full utility of the charter yacht, together with responsibility, for the vessel for an agreed time, in return for payment.
Skippered Charter.
All You Need to Know
How Does Yacht Charter Work. The size and age manufacturer of the yacht is made clear in the offer, and if applicable, where you can sail the boat. In some areas, it is necessary to have the right paperwork to enter into other territorial waters (see Transit Log). You will be expected to pay for damage to the yacht, up to a certain amount, before the insurance takes over. Like cars, you can pay for a damage waiver to reduce your liability to a more manageable figure, even to nothing.
Understanding the Red Tape
There is a wide range of standards, although most now operate under national governing bodies that regulate fleets. Those that are not self-regulated by the industry; with an increasing number of experienced brokers, rogue fleets are quickly encouraged to improve or face exclusion from agents' offers.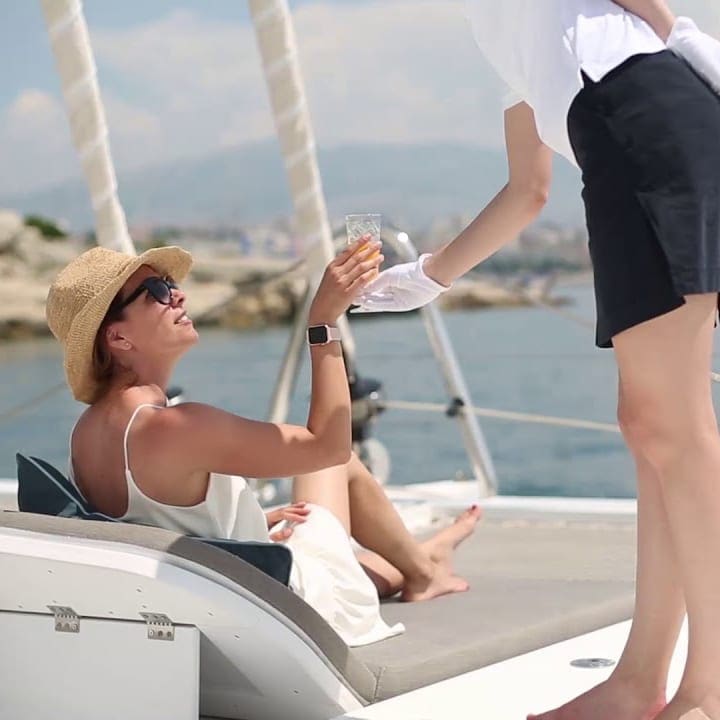 Understand the Difference between Charter Types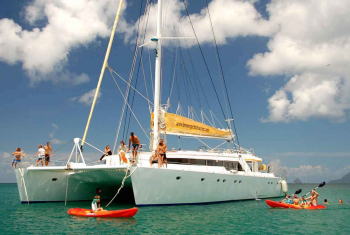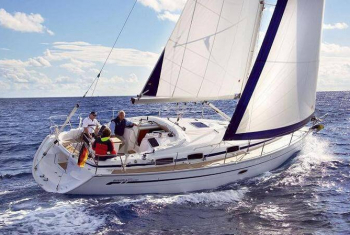 Bareboat Yacht Charters
How Does Yacht Charter Work. Bareboat charters are rentals of boats usually owned by individuals under the management of a charter company. These may be large companies operating multiple fleets in different parts of the world, all year round, or local outfits that manage a handful of boats in season. Bareboats are most often 50 feet or less in length (46 or less for multihulls).
Depending on the charter venue, a resume, careful checkout, and insurance deposit are usually required; in some locations, a level of certification may be required. The charter company may encourage or require, the skipper to take a professional captain along for a day or two until the charterer is comfortable handling the boat and its systems.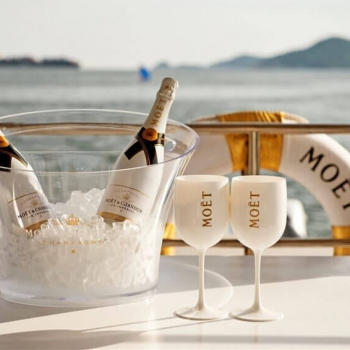 Crewed Yacht Charters
How Does Yacht Charter Work. Crewed Charters combines the service and friendliness of an elegant hotel with complete freedom to explore exotic destinations without ever worrying about the crowds. If you want the exhilaration of being on the water, the privacy of your own boat, but a bit of luxury and pampering, then we highly recommend a crewed charter.
Crewed Charters are yachts where the crew are dedicated to a specific yacht. They take care of the maintenance, sailing, cooking, cleaning and navigation, and are typically experts in the region where you will be chartering. None of us underestimates the value of local knowledge – it can make the difference between efficient and a hassle-free time when finding a mooring, restaurant, or dealing with local customs.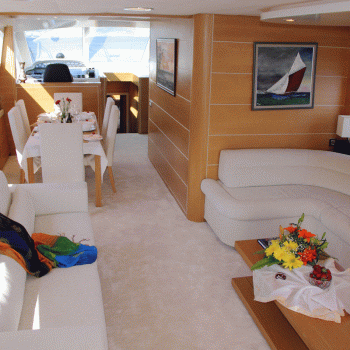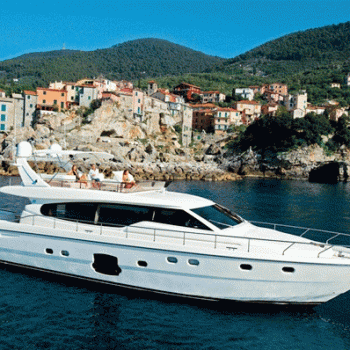 Crewed Motoryacht Charters
Crewed motor yachts are typically Luxury Yacht Charters or Super Yacht Charters that combines the service and friendliness of an elegant hotel with complete freedom to explore amazing destinations without ever worrying about the crowds. If you want the exhilaration of being on the water with the wind in your hair, freedom to explore, privacy, service, pampering, great food and well-mixed drinks, then we highly recommend a crewed motor yacht charter!
Crewed Luxury Motor Yacht Charter – 5-star Service. Crews on luxury yachts are hired, extensively trained and dedicated to one yacht. It is their job, livelihood and passion to manage your charter and the well-being of the clients aboard. They run the boat and are focused on your enjoyment and well-being. The crew takes care of the maintenance, sailing, cooking, cleaning and navigation, and are experts in the region where you're cruising. Yacht crew members are normally highly trained and experienced in the specific areas of responsibility they hold. And of course, they have to be people and service-oriented.
Why People Choose Us
Award Winning
Best Yacht Charter Company 2019
3rd UK Enterprise Awards.
Dedicated Support
We combine the latest search technology
with sector leading customer service.
Every Boat, Every Location
We have aggregated every professional fleet.
Recommending the best
Request More Information
Contact us now for help and advice on creating perfect yacht charter memories.the
Why Use an Agent What will an agent give you?
Better access to the operator – alternative solutions
Better deals than going direct
Bigger discounts
Personalized guidance and assistance
Service Standards What You Should Look for
Yacht operators rightfully prioritize their main business of managing and maintaining yachts to ensure optimal conditions for charter.
It's not feasible for them to provide the same level of back-office services as an experienced agent. Agents can offer alternative currencies, better exchange rates, personalized extras, and be by your side in case of any issues.

DESCRIBE
Please provide us with a brief description of your requirements so that we can search the entire sailing market on your behalf. We will provide you with no-obligation information regarding your search.
Bareboat Yacht Charter
Crewed Yacht Charter
Cabin Charter
Luxury Yachts and Motor Yachts
Add tailor Options not available elsewhere
Read about a case study...
We are currently adding some real customer examples of descriptions for you.

Yacht Charter Case Study. We received this request via our website.
"I am seeking a great deal on chartering option in Croatia. I have a proposal from XXXX Charter for the period of 7th to 14th of September. They offer a Bavaria 46 Cruiser for 8 (9) persons for a price of 2566 Euros, excluding some 240 Euros for extras (outboard, tax, permit). The cruise is to start and end in Biograd, Croatia. I would like to hear your opinion."
With this deal, we beat the customer's direct quote. We even talked to the yacht operator, who was happy for us to handle all the administration on their behalf. The customer reasoned:
"Yes, you quoted a very interesting proposal. It beats the price we already achieved with XXXX for about the same product. Now I am going to discuss it with my friends."
We were able to offer the customer a better deal than booking direct.

REFINE
Our team will contact you to address any questions or concerns you may have. Once your message is received, one of our agents will promptly gather important details. Don't fret if you forgot to mention something.
At this stage, we provide significant assistance. As the sole Yacht Charter Comparison Site with access to all industry booking platforms and a comprehensive database of independent options, we offer a tailored service that meets your individual requirements.
Find out all the things we ensure happen here...
We will ensure:
You understand the merits and reliability of the charter company we recommend.
The cancellation policy of the company is properly understood
The deposit method is quoted
Any extra taxes, cleaning fees, starter packs, etc.
Specific to your requirements, there are many other elements we will check:
The cruising area and any restrictions
Qualifications required
Local Yacht Provisioning
Local or third-party options for skippers/captains, chefs, cooks and hostesses.
And so much more. Yacht Charter Case Study We were contacted by a couple who had some experience sailing on local lakes back home. They were planning to live on a yacht shortly. They did not require a local skipper but were interested in having a highly experienced yachting instructor who could advise them on every aspect of their project. Next, we were about to talk to the charter company and allow them to try more than one make of yacht, all at no extra cost.
Why Choose SailChecker? We are the only online yacht charter comparison site to allow you to blend options from different suppliers. Why not hear what our customers think of our service? Click here to read the latest testimonials.

QUOTE
You can expect to receive detailed information within a few hours of submitting your requirements. We guarantee to provide you with a quote within 24 hours. However, our commitment to you doesn't end there. Unlike other service providers, we offer continuous support and guidance throughout the entire process.
We are genuinely interested in your sailing experiences and strive to learn from them. To ensure that you receive an accurate quote, we make sure that every aspect of your charter is taken into account. With our team of industry specialists, you can rest assured that any questions you have will be addressed promptly.
Read a case study here...
Yacht Charter Case Study Simon Borland recently contacted us to help him charter his annual sailing trip with friends. This year they selected Ibiza. He and his friends had the most amazing time but were disappointed when they were not giving evidence their deposit had been returned to their credit card. SailChecker immediately contacted the charter company and was able to have the issue resolved the same day.

BOOK
You can expect to receive comprehensive details in a timely manner. Once you have finalized your requirements, we will provide you with a quote within 24 hours.
However, that's not all. Unlike other services, we are committed to supporting you throughout the entire process, providing helpful advice along the way. We are eager to assist you and gain insights from your sailing experiences.
We understand that not all quotes are created equal, and we strive to provide transparent engagement for every aspect of your charter. Comparing quotes accurately requires the right information, and our team of industry specialists is equipped to provide it. If one team member is unable to answer your question, another colleague will be available to assist you.
Read a case study here...
Commercial Exchange Rates – No Currency Charges
One of our SailCheckers from Canada wanted to book a boat in the Caribbean. The quote was really fabulous and Kim was expecting to pay in USD. Using our client account in Canada, we were able to invoice her in Canadian Dollars. This not only saved her Foreign Currency charges, but we were also able to offer her commercial exchange rates 4.5% better than her bank!
Not everyone needs to pay in foreign currencies, but this is just one example where SailChecker have refined our systems to benefit the customer – not the banks.
SailChecker offers a wide range of Yacht Charter globally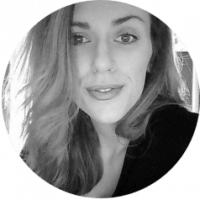 Hear What Other SailChecker's Say
I loved the sailing but diving in the British Virgin Islands was truly amazing. I had never done anything like that before.

A "Try Dive" was aranged in for guests advance, all the forms were was allready sorted

USA

We booked a family adventure. I hadn't sailed since I was a little girl. It was amazing seeing the looks on my kids faces!

SailChecker.com advised and booked her family vacation to the BVI in 2012.

USA


 Thank you sooo much!

It was sail in the day… party at night. We couldn't have wanted a better skipper or a Spring Break!  Good times...

Arranged for 6 friends to sail Spring Break in the British Virgin Islands for under $500 each.

USA

Tell us your crewed yacht charter requirement or question
We love hearing from you. We are an open resource available to answer your yacht charter and sailing questions. So if you have a question, why not try us.
Book With You Favorite Suppliers
Connect with over 200 fleets
Book from more than 30,000 Boats