During your cabin charter – or just have fun in the sun
Cabin n. (kæbɪn) A private room or compartment on a boat or ship.
Charter n. (tʃɑːtə) The hiring of an aircraft, ship, or motor vehicle for a special purpose.
Cabin Charter ph. (kæbɪn tʃɑːtə) typ. The hiring of  part of a yacht as part of a shared crewed charter
The Beginner's Guide

Join us and Learn to Sail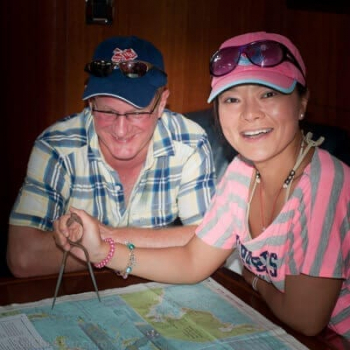 Who Comes on Our Trips?
Sail with SailChecker for added fun!
For those sailing for the first time or looking for what our creative experts can have put together, we have an exclusive range of sailing vacation, weekends and flotillas to save you time, stress and money.
Different Types of Cabin Charter
GULET CHARTER
Great way to meet new friends.
The Gulet Charters in the Mediterranean are a great example of Cabin Charters with 4+ cabins available to guests.  The amount of actual sailing varies from company to company, on some you will find the sails are more decorative than functional.  Others will pride themselves of teaching or showing you the art.
MIXED PURSUITS
Try Yoga, Swimming, Nutrition, Fitness, Diving and so much more.Some Cabin Charters will have offer other pursuits, some that are the primary reason for travel such as yoga or swimming.  Others will offer parties with DJs and cheap drink to entice a younger crowd. Catamarans and Large Yachts Some owned by Charter companies and other owned by individuals, there are a number of Cabin Charters available on the sailing market.
Learn to Sail - Master the Art of Sailing & Have Fun

We have exceptional access to some of the best places to learn to sail in the world.  No service can offer you more choices, support and guarantee the best price.
The joy of mastering the art of sailing for some is reward enough.  Battling the elements using the skills learned through training, practice and experience are extremely gratifying.  Many of those who are already along the qualification route will know it's not all plain sailing, but the lows are quickly eclipsed by the highs.
If something has come to mind, why not take action and contact us now. (click in the space below to begin)
[sc_enquire_ui]
Allow Us to Guide You - Find the Right Sailing Course for You
Finding the right course or scheme may be not always  be straightforward. For some it might be  clear, for others it  may depends on the qualification needed for which country and purpose.  Some awarding bodies are recognised throughout the world whilst others have geographical limitations.  Our experts are standing by to answer your questions without obligation to book through us.
There are literally 100's of options when it comes to gaining sailing qualifications and instruction, we are here to guide you through.  Why not asks us a question here so we can beling helping you right away.
[sc_enquire_ui]
Improve & Refine - Attention To Detail
Once we have established which qualification you are ultimately aiming for, what time frame, the scheme, the jurisdiction, etc. we will be able to present you with some great options.  For some the fun of sailing and learning in the sun is such a great option.  We have course being run in the Whitsunday Islands, Thailand, New Zealand, Chesapeake Bay, St Vincent, British Virgin Islands, West Coast of Scotland and so many more.
So if your are looking for  yachtmaster with commercial endorsement, seeking to take the big Blue Water Cruise, or just enough to charter you own yacht for your holidays, trust SailChecker to find the perfect learning to sail opportunity for you.
Don't know where to start?  Little nervous? Please reach out now and we look forward to helping you right away
[sc_enquire_ui]
End to End Support - Service beyond the point of sale

What happens if something goes wrong?  All charterers should take out appropriate travel insurance and the yacht will have it's own insurance.  These two provisions deal with the majority of things that can go wrong.  What you need to know is, that we are still here for support and advice after you book, whilst you are traveling and after you return.  We hope the comfort of knowing you have someone to turn to advice is useful.  The majority of times it's more of helping out with minor irritants like not receiving confirmation your deposit has been returned, or disputing damage – were here whatever the issue.
Something on your mind?
[sc_enquire_ui]
Enquire or Book Now - No such thing as a silly question/em>

Our simple form allows you to ask us just about anything you like.  If your asking about our courses worldwide, try and give us as much detail as possible!  But don't worry, we will follow up real soon with an overview of the entire sail training market and lots of great advice.
[sc_enquire_ui]
Get Started here
Two clicks is all it takes!
Our expert team of charter consultants check more than 30 operators and offer tailored options to ensure you get the very best deal.
Work with all the major operators.
Offer a complimentary guided service.
Discounts over booking direct
Our full support.
Simply leave us your instructions and allow our expert team to create a complementary selection of cabin charter to suit your needs. Will work with you patiently to Create your perfect sailing holiday.
Nice Things Our Friends Say
I loved the sailing but diving in the British Virgin Islands was truly amazing. I had never done anything like that before.

A "Try Dive" was aranged in for guests advance, all the forms were was allready sorted

USA

We booked a family adventure. I hadn't sailed since I was a little girl. It was amazing seeing the looks on my kids faces!

SailChecker.com advised and booked her family vacation to the BVI in 2012.

USA


 Thank you sooo much!

It was sail in the day… party at night. We couldn't have wanted a better skipper or a Spring Break!  Good times...

Arranged for 6 friends to sail Spring Break in the British Virgin Islands for under $500 each.

USA
Get So Much More for Less
Over 300 Global Partners
More than 30,000 Available Yachts