British Virgin Islands Sailing Itinerary
Nature's Little Secret
A Real Sailor's Dream Stunning 50-Plus Islands & Cays
British Virgin Islands Sailing Itinerary & Guide. Located in the Caribbean's Leeward islands, this former haunt of pirates, including the infamous Blackbeard, is now host to one of the world's premier sailing destinations.
The Two Best Reasons To Bareboat Charter in the BVI
Steady Trade Winds. The alluring promise of steady trade wind sailing a limited development  of restaurants and marinas, plus line-of-sight navigation between the 33-odd islands still make the British Virgin Islands Sailing Itinerary (BVI) a true sailor's favorite; windy, but not too windy, and never far from a rum punch. This is quintessential chartering territory, a playground where you can expect a certain laid-back 'Britishness'.
Easy Navigation. The small tidal range – a mere 12in (30cm) – and the sheltered waters mean that even novice sailors can enjoy island hopping from Tortola, although many more experienced sailors also travel to the islands each year to relax and lazily crisscross the Sir Francis Drake Channel without the hassles of customs clearance. Passages between the islands can take as little as half an hour and rarely more than three hours.
… British Virgin Islands Sailing Itinerary (BVI) a true sailor's favorite; windy, but not too windy, and never far from a rum punch.
Quick Page Navigation
Caribbean Essence Distilled Into One Bar
Ensure White Bay, Jost Van Dyke is On Your British Virgin Islands Sailing Itinerary
British Virgin Islands Sailing Itinerary
Our Aim. This British Virgin Islands Sailing Itinerary highlights is designed to ensure that you will discover secluded bights, the very best snorkelling spots, and impossibly gorgeous cays. Designed to give you a flavour of the islands, with so much to do, we create tailored itineraries for all our guests.
Locals Choice. What to squeeze in 7 days in these wonderful islands for your British Virgin Islands Sailing Itinerary. To assist us, we used the helpful  guidance of our local partners combined with the help of our experienced team. We think we have chosen some amazing spots for you to consider. 
We love to Hear From You. Why not leave us a comment at the bottom of this blog.

Typical Prices. You can sail for $365 USD/ €345 EUR/ £305 GBP/  $495 AUD per person*
Family (2 adults, 2 children) (01 Jan and 31 Mar)*
Tortola BVI
Tortola
Road Town. The British Virgin Islands Sailing Itinerary's largest and most developed island includes the chain's airport (strictly on Beef Island) and is home to a bustling capital Road Town. Here you will find plenty of well-stocked shops selling provisions and souvenirs.
As darkness falls the sound of steel bands fill the evening air.
Cane Garden Bay
Northwest Coast.  A sweeping beach on the northwest coast is just one of many palm-fringed, white sand beaches all around the coast offering a wide variety of water sports for you in our British Virgin Islands Sailing Itinerary.
Diving in the BVI
Diving. The BVI is a great place to dive. You can easily accomplish a 'try-dive' as part of a sailing holiday, training on the beach in the morning followed by the main event in the afternoon.
Wreck of the Rhone
Divers' Dream. For  slightly  more experienced divers the wreck of the Royal Mail steamer Rhone, the setting for the movie The Deep, starring Nick Nolte and Jacqueline Bissett, is an absolute must. Bear in mind, you can still get a great view of the old steamer with basic snorkeling gear.
British Virgin Islands 7 & 14 Day Sailing Itinerary
Enjoy learning all about the highlights and must-sees of any British Virgin Island Sailing Itinerary. Use the links below to see our 7 and 14 Day Itinerary.
The Soggy Dollar Bar - Great Spot to Swim Ashore for a Painkiller
While away the afternoon in a hammock under a palm tree.
White Bay 18°26'30 N 64°45'80 W
Soggy Dollar Bar. One of the most famous spots in our British Virgin Islands Sailing Itinerary, so arrive early for the chance of a mooring buoy. It is a great spot to swim ashore for a Painkiller and to while away the afternoon in a hammock under a palm tree. The Painkiller, a delicious but potent rum drink was originally invented at the Soggy Dollar Bar (named for the soggy state of dollar bills used to pay for drinks after swimming ashore from an anchored vessel). To the west down the beach is One Love Bar & Grill serving lunch and cold drinks daily.
Provisions. Jewel's Snack Shop serves light bites during the day, White Bay Superette is a small super-market where you can pick up a few essentials. Ivan's Stress Free Bar and Restaurant, lavishly decorated with shells from the beach, is on the eastern end of the bay and is where you pay for your moorings.
The Painkiller Cocktail
"Originated and Perfected at Sandcastle's Soggy Dollar Bar in the 1970's this smooth, full flavoured run cocktail has become the essence of Caribbean imbibing.
The perfect concoction of premium dark Rum, Cream of Coconut, pineapple, and orange juice (proportions are secret, topped with fresh Grenadian Nutmeg makes the swim (no dock) to the Soggy Dollar worth the effort.
Perhaps it's the setting of White Bay, the thirst from the swim, the perfect blend, or just because of the tradition of the 'original' painkiller at the Soggy Dollar Bar…
… whatever the reason, Welcome and Enjoy!
Tish and Jerry"
The Secret Painkiller Recipe
  •  2-4 oz Pussers' Dark Navy Rum
  •  4 oz pineapple juice
  •  l oz cream of coconut
Blend or shake vigorously and serve on the rocks.
Grate fresh nutmeg.
Callwood Distillery
Callwood's Distillery. Mr. Callwood's rum distillery affords visiting yachts a glimpse back into history.
Panty Dropper. White and gold rum is still produced from the cane grown on the hillsides and bears the label Arundel from the name of the estate purchased by the Callwood family in the late 1800's. Rums available include the famous Panty Dropper, who could resist a Rum with such an alluring name!
It is recommended that you ask permission prior to wandering through the distillery, and the purchase of a bottle or two is expected.
Norman Island
Norman Island Bight. Just seven miles (11km) south of Road Town, Norman Island is within easy reach. A world-renowned site for snorkeling, the sea here teems with life, including turtles, exotic sponges and corals. The island was a favourite haunt of legendary pirates and is said to have inspired Robert Louis Stevenson's Treasure Island.
William Thornton. To the west of Norman Island is a safe, sheltered anchorage if you decide to drop anchor for the night and party, Caribbean style, aboard the famous 'Willy T', a converted 1915 schooner.
Cruising Guide
Cruising Guide BVI. Grab the very latest Cruising Guide.
Get Our Downloadable Guide to British Virgin Islands
Download a PDF Version of Our British Virgin Sailing Itinerary and Guide:
Click here to view or download
By downloading you are agreeing to receive our super informative newsletters. Although we will be sorry to see you go, it's very easy to unsubscribe if you no longer want to receive them.
By clicking the button below, I agree with the
Terms & Conditions
.
Download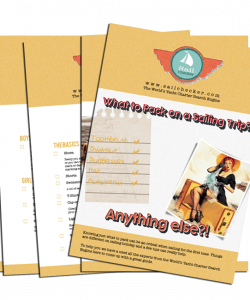 Jost Van Dyke
Jost Van Dyke. Named after a Dutch pirate this is another must-see islands group . This island, three miles northwest of Tortola, is worth exploring on foot and rewards with many stunning views.
The Soggy Dollar. The island's notorious "painkiller" cocktail originated at the Soggy Dollar, a bar so-named because sailors would dive from their boats to swim ashore from its perfect anchorages and hang up their wet dollars to pay for their drinks.
The Fat Virgin
The Baths & Virgin Gorda. Seven miles southeast of Tortola is Virgin Gorda, or the "fat virgin" from the Spanish, with its labyrinth of boulders, caves and natural pools, known as "The Baths".
Swim ashore, wade between the huge boulders and you may chance upon one of the Caribbean's finest beaches while round the corner – passing the extraordinary island they call Fallen Jerusalem – and through into Gorda Sound at the Bitter End Yacht Club.
Soper's Hole Wharf
Great Place to Shop & Get a Bite to Eat
Necker Island
Richard Branson & Neckar island. Celebrity Spotters will know that Sir Richard Branson's Neckar Island is a boat hop away, but well protected from prying eyes behind fringed reefs.
Anegada
The Best Place to Eat Lobster. Mysterious Anegada lies low on the horizon for those who enjoy line-of-sight navigation.Should you choose this for your British Virgin Islands Sailing Itinerary, enjoy calling ahead to order your lobster from one of the many seafront restaurants and hotels including Potters by the Sea.
Navigation Caution. Don't leave it too late in the day: dark blue water is deep, powder blue shallow and if you find yourself in brown water, the coral heads are just below the surface, so it's time to retrace your course to safety. Read our informative blog on how to navigate coral safely.
British Virgin Islands 7 & 14 Day Sailing Itinerary
Enjoy learning all about the highlights and must-sees of any British Virgin Island Sailing Itinerary. Use the links below to see our 7 and 14 Day Itinerary.
Give us a Call or Send us an Email.
We're here to Help.