Maldives Cabin Charter
Discover paradise on earth
Sail Maldives
Collect incredible memories
For honeymooners, sun worshipers, divers, or simply salty dogs in search of new cruising grounds, incredible memories and wonderful stories, the Maldives have everything one could want in an unforgettable sailing vacation.
Explore these Indian Ocean's unique islands on board the largest and most comfortable catamarans in the area.
You will be pampered by the crew while discovering unspoilt beauties.
All you need to now about this island nation of 1,190 coral islands
The Maldives is a geological marvel stretching across the Indian Ocean like a magnificent strand of rare pearls at the Equator. This island nation comprises 1,190 small coral islands – isn't that amazing? The Maldives is the lowest country on earth, with an average height above sea level of just one to three meters.
Nowadays, sailors are welcomed by Maldivians and find shelter from the Indian Ocean among its countless protected, deep-water anchorages.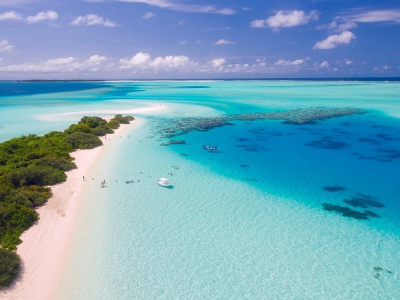 Culture
Cultural diversity can be seen in everything from music to boat building. Music is frequently played with a local bodu-beru, or big drum, similar to African drumming. And the Maldivian dhoni, a sailboat built locally by skilled craftsmen, is strikingly similar to a dhow, the traditional Arabian sailing vessel.
Our partners' base is on the main island of Male', which is the perfect spot to begin a sailing tour of this remarkable country.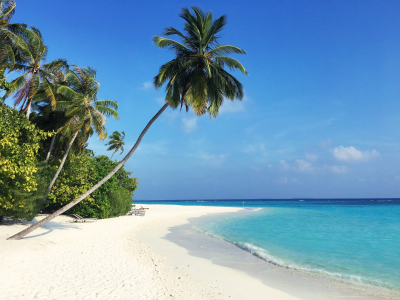 Beaches & Activities
The sky is blue and the sun is shining, the sea has that fantastic crystal clear blue colour and the beaches are stunning – in just one word; Perfection.
Astonishingly lovely white powder sand beaches on one island after another. You can tour local fishing villages or visit some of the most elegant resorts with facilities that the charterers are welcome to use, and many are uninhabited. The snorkelling and diving, shelling, and abundance of marine life are all beyond comparing the temperature of a relaxing bath in water.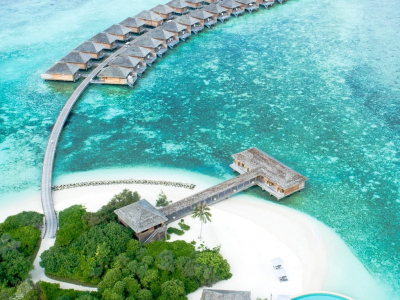 Cabin Charters The advantages of a sailing holiday are endless, you can explore the numerous islands and reefs that are set in this abundant and vibrant crystal blue Indian Ocean.
Snorkel or dive on many of the reefs that the Maldives has to offer and discover the many wonders that lie in the underwater world. Scuba diving can be organized on the spot with the local diving clubs.
The large catamarans are the ultimate dream safari to ensure guests travel comfortably and quickly to their many destinations throughout this marvellous country. Many resorts can offer you all you need, but only our catamaran can offer this in a genuinely relaxed and comfortable atmosphere. Our partners' yachts provide comfortable accommodation in double cabins with a private bathroom, delicious food and dedicated services provided by the Crew.
The deck is the perfect location to sit and relax and watch the world go by whilst enjoying a long & cooling cocktail and taking in the sunset and the ocean's breeze. You will be offered different menus every day, by the cook. There will be fresh fruits, fresh fish, and meats transformed into excellent mouth-watering meals.
Itinerary
Day 1: Hulhumale Lagoon – Eyboodhoo Lagoon (South Male Atoll) – 2:00
Embarkation in the lagoon of Hulhumale at 14:00, after a 20 min transfer by boat (Dhoani) from the international airport of Male' or Hulhule Island Resort.
Lunch will be served on board and we start our cruise at 16:00 towards Eyboodhoo Lagoon (South Male Atoll) swimming site.
Anchorage and dinner in front of Eyboodhoo Lagoon.
Day 2: Eyboodhoo Lagoon – Sexy Beach Sand Bank (South Male Atoll) – Bodukashihura ( Ari Atoll) – 5:30
After Breakfast, you will discover a paradise on earth: Sand Bank (called sexy beach), a magnificent sand bank with white fine powder-like sand, time for swimming, snorkelling, kayaking. During sailing, Lunch will be served. At 4:30, we cross the channel to South Ari Atoll and moor in front of Bodukashihura, an uninhabited island surrounded by a reef with abundant marine life. Swimming, snorkelling.
Night at anchorage off Bodukashihura.
Day 3: Bodukashihura – Meerufenfushi – Dhiggiri ( Ari Atoll) – 2:30
After Breakfast, there's 1 hour sailing towards Meerufenfushi, a jewel, one of the most beautiful islands in the Maldives, sheltered by a small lagoon, a small natural pool lined with a paradise beach. Appreciate the protective shadow of the beautiful palm trees. During lunch, the boat moves to Dhigghiri, a private island. When walking on the beach, collect some shells and admire the elegant sea birds – swimming, kayaking, snorkelling, etc.
Mooring overnight and beach buffer dinner.
Day 4 : Dhiggiri – Alikoi Rah Sand Bank – Raiy Dhiggaa ( Ari Atoll) – 2:30
After breakfast, quick navigation of 30 min towards Alikoi Rah Sand Bank, surrounded by a reef with abundant marine life- Swimming, kayaking, snorkelling – during lunchtime, we sail 2 hours towards Raiy Dhiggaa, a private island. Collect some shells at the beach or spend your time swimming, kayaking, snorkelling, etc.
Day 5: Raiy Dhiggaa – Sand Bank (Near Ranveli Resort) -Daghetti ( Ari Atoll) – 3:30
After breakfast, we sail 1h30 towards Sand Bank near Ranveli Resort for swimming, snorkelling and kayaking – for the guest who likes to dive. They can use the dive centre of the resort. The boat will sail 30 minutes to Daghetti island with its local village with shopping facilities in the numerous boutiques in the evening. Do not miss the pride of the habitants: a magnificent banyan tree that is several hundred years old and of impressive dimension.
Dinner at anchorage off Daghetti.
Day 6: Daghetti – Manta Sand Bank – Guraidhoo (Male' Atoll) – 5:00
During breakfast, we cross the channel in 4 hours towards the South Male Atoll. The boat will anchor at a sandbank and with some luck, you will be able to see manta rays and swim along with them, or you snorkel or just relax at the beach with its fine sand. After 1hr sailing, the boat will arrive at the local village Guraidhoo Island, with its souvenir shops and a visit to this village is another experience not to be missed. Dinner at the anchorage of Guraidhoo.
Day 7: Guraidhoo – Maadhoo Finolhu– Hulhumale' Lagoon – (Male' Atoll) 4:00
After breakfast, the boat will head for Maadhoo Finolhu, where you can swim, snorkel, go by kayak or relax on the fine sandy beach. Beach buffer
Lunch and at 2 pm we start to sail towards Hulhumale Lagoon where we arrive around 7:00.
Day 8 : Hulhumale
Disembarkation between 6:00 and 8:00.
Itinerary subject to change depending on meteorological/technical conditions. This is a sample route.
For the Maldives, there is also a Premium Itinerary and an 11-day Itinerary. Please get in touch with us for more details.
Prices
| Period | Price (p.p in a double shared cabin) |
| --- | --- |
| Average Price | €980 |
| August | €890 |
| September | €980 |
| October | €1370 – €1575 |
| November | €1575 – €1880 |
| December | €1575 – €2394 |
Prices depend on the period and the cabin.