Your Complete Cabin Charter Guide
Cabin n. (kæbɪn) A private room or compartment on a boat or ship.
Charter n. (tʃɑːtə) The hiring of an aircraft, ship, or motor vehicle for a special purpose.
Cabin Charter ph. (kæbɪn tʃɑːtə) typ. The hiring of  part of a yacht as part of a shared crewed charter
A Great Way to Enjoy Sailing & Meet New Friends
Who Uses a Cabin Charter?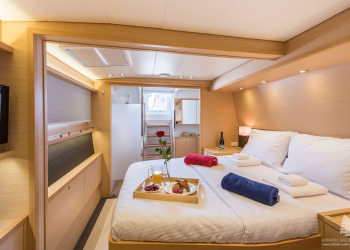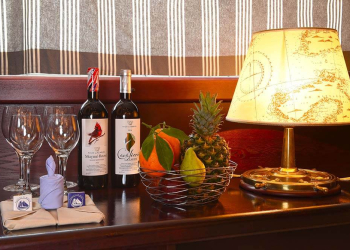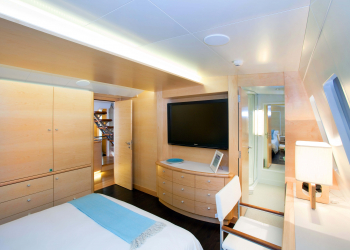 Share Sailing Luxury With a Partner or Friend
Cabin Charter. There can be no doubt Cabin Charter is perfect for people who want to join a yacht with other travellers that they don't know each other. Once you are a group of 3 or 4 or more, then a private charter of some sort would begin to make more sense.
That said, there are those that love the community atmosphere created on these trips, and chose Cabin Charter as a preference.
Different Types of Cabin Charter
GULET CHARTER
Great way to meet new friends.
The Gulet Charters in the Mediterranean are a great example of Cabin Charters with 4+ cabins available to guests.  The amount of actual sailing varies from company to company, on some you will find the sails are more decorative than functional.  Others will pride themselves of teaching or showing you the art.
MIXED PURSUITS
One of the real advantages of Cabin Charters is they come with a professional crew and more pursuits than you'd expect on a crewed yacht charter. You can try Yoga, Swimming, Nutrition, Fitness, Diving and so much more.
Some Cabin Charters will offer different more specialist activities and the primary reason for selecting the charter, such as yoga or swimming.
At the other end of the scale, if rocking the night away is your thing, other cabin charters will offer parties with DJs and cocktails and drinks to entice a party crowd.
There are a number of Sail Week-type Cabin Charter aimed at specific groups and demographics, for instance, the University Sail Week, aimed at Students.
Why Book with SailChecker - Learn What it is We Do and Why

We love crewed yacht charter; making sailing so accessible to a wider audience. The majority of the bareboat market is driven by those who already have qualifications and pull in friends from around them. Where as a cabin charter, you will very often not know the other members of your crew.
Even though cabin charters have drawn in those looking to sail without taking it up seriously, it is now more fashionable and attracting those with qualifications and experience from those seeking the opportunity to meet and make new friends. There is something very close about the friendship made on a yacht.
We have many cabin charter suppliers on our books and also create our own Ready Made Sailing Escapes.
So Many Options - How We Deal With Cabin Charter

Cabin charters are on the increase. Whilst all the ones we know of are of a high standard, there are many different types to consider. The Cabin charter can cut across our other charter services, for example, we can offer cabin charter on a Flotilla vacation and sometimes team up with those looking for the freedom of bareboat charter.
We would love you to call us and let one of our experienced consultants find out what would suit you best – the old-fashioned way – over a short chat.
But if you have a quick question for us, why not kick things off with a question. Just use the box below to discover whatever you need to know quickly and efficiently.
We ensure that you retain complete peace of mind.
The Art of Refining - Independence Matters
Make it special. We recently organised an amazing cabin charter in Cuba. The guys enjoyed the fish caught fresh from the lines on the back of the luxury catamaran. The personal experience of our team here was able to recommend a split holiday and the customers enjoyed an amazing 3 days in Havana.
From Cuba to Thailand – Cabin Charter are on the rise. We thrive on your challenges.
End to End Support - Service beyond the point of sale

We want you to know we are with you every step of the way. We act us your agent throughout helping you deal with any challenges that corp up.
Do you have a destination where you would like to join a cabin charter?  Why not let us send you a selection to enjoy?
[sc_enquire_ui]
We offer you support from first contact until you're safely back at home and beyond.
Enquire or Book Now - We like all questions, no matter how trivial

All enquiries are with our compliments and set no obligations on you. Enjoy the benefits and advantages of sailchecker and look forward to arranging your next cabin charter.
Use our simple enquiry form below. To make a cabin yacht charter enquiry.
[sc_enquire_ui]
Two clicks is all it takes!
Our expert team of charter consultants check more than 30 operators and offer tailored options to ensure you get the very best deal.
Work with all the major operators.
Offer a complimentary guided service.
Discounts over booking direct
Our full support.
Simply leave us your instructions and allow our expert team to create a complementary selection of cabin charter to suit your needs. Will work with you patiently to Create your perfect sailing holiday.
SailChecker Offers a Wide Range of Cabin Charter Globally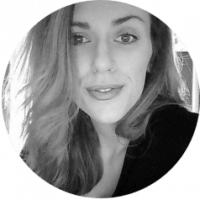 Our Yacht Charter & Sailing Services
What Service Do You Need?
Hear What SailCheckers Say
I loved the sailing but diving in the British Virgin Islands was truly amazing. I had never done anything like that before.

A "Try Dive" was aranged in for guests advance, all the forms were was allready sorted

USA

We booked a family adventure. I hadn't sailed since I was a little girl. It was amazing seeing the looks on my kids faces!

SailChecker.com advised and booked her family vacation to the BVI in 2012.

USA


 Thank you sooo much!

It was sail in the day… party at night. We couldn't have wanted a better skipper or a Spring Break!  Good times...

Arranged for 6 friends to sail Spring Break in the British Virgin Islands for under $500 each.

USA

Tell Us Your Cabin Charter Requirement or Questions
We can't wait to hear from you!