White Bay British Virgin Islands
An Exciting Getaway Far From the Hustle and Bustle of City Life
Finding White Bay British Virgin Islands Might Be Your Tonic!
White Bay British Virgin Islands – The BVIs are a series of islands located on the eastern part of Puerto Rico in the Caribbean; they are one of the most popular sailing spots in the world today.
Anegada, Tortola, Jost Van Dyke, and Virgin Gorda are just a few of the islands that make up this cluster. The BVI boasts of its prosperous economy with financial and tourism services as the primary source.
The majority of its annual visitors come from the United States, Canada, Australia, and the United Kingdom.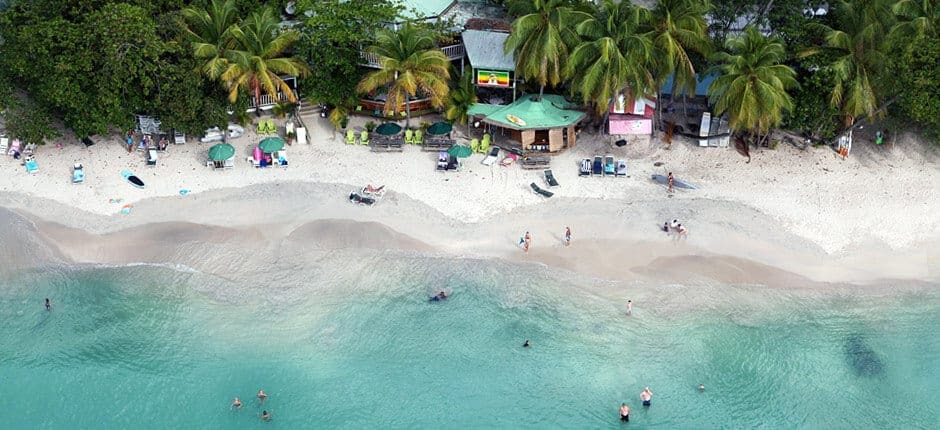 Reasons to Visit White Bay British Virgin Islands
The Endless Sandy Beach
Many tropical beaches are hidden in the BVI, and it takes a little bit of cruising across the Caribbean islands to get to these places. Jost Van Dyke is a famous tourist destination around the BVI chain as it houses several boutiques, shopping zones, bars, and the phenomenal White Bay British Virgin Islands beach.
While there are many other beaches around the BVI, there are many good reasons why you should not miss out on White Bay.
The beach has white, powdery, crystal-like sand that cannot be found on other beaches. The water is bluest in White Bay, British Virgin Islands, which serves as a great place to explore underwater.
Also, the reefs are close to the coastline; so, you don't have to snorkel far on-shore. And since the beach has a laid-back atmosphere, it is a good place to relax and enjoy the sea breeze.
Party or Relax
Furthermore, White Bay British Virgin Islands is near the famous Soggy Dollar Bar, which you should visit to complete your stay in Jost Van Dyke.
Try on the Painkiller drink, which was born in the Soggy Dollar bar itself. But, you have to know that to get to this beach bar, you have to swim ashore and pay for the drink with wet money. Fun, isn't it? And it's really a unique and noteworthy experience.
If Soggy Dollar isn't enough for you, try One Love Bar and Grill and make friends for life. For accommodation, villas overlook White Bay British Virgin Islands that can be rented for a reasonable cost.
Finally, there are rustic shopping stores and souvenir boutiques near the beach that you can visit to buy presents for friends and loved ones back home.
Getting There
You can only really access White Bay British Virgin Islands by boat. Whilst you can use day trips, the majority of visitors are charter yacht guests.
You can choose a bareboat or crewed charter, depending on your sailing skill. With crewed, you require no skills at all!
Yacht charter companies offer a wide array of sailboats or motor yachts to accommodate both small and large groups. A crewed charter boat can accommodate you and your family in one of the best tropical paradises in the world.
Amazing Sailing Experiences
Our Amazing Customers

Great family vacation.


I didn't think sailing with my family would be so much fun...

Sailing for the first time.

USA


I recommendate them !

Everything went smooth, the paper processing, special requests and the specs of tht check-in procedure. Boat was also in good shape, so no complaints and a worry free holiday...

We had a great experience with booking through sailchecker.

<read more>

USA


Great service from Kate.

Informative and looked for the best value for our family. Very good customer service on this side and in Greece. Great boat and skipper...

Fantastic holiday from start to finish.

<read more>

United Kingdom


Very professional outfit!


They were very responsive and very quick to answer questions via email and instant chat. They had extensive knowledge of the area...

We will most definitely use their services for our next bareboat sailing vacation.

<read more>

USA


Sail checker were professional from start to finish - we wouldn't book through anyone else!

Sailchecker were professional from start to finish - and were awesome dealing with a problem! Our first Yacht had serious issues and sail checker helped us to resolve it...

They are easy to deal with, straightforward and honest and I would recommend them to anyone planning a charter holiday.

<read more>

UK


Coronavirus pandemic support has been brilliant!

During the Coronavirus pandemic, Kate and her colleagues at Sailchecker have performed brilliantly. They have been considerate and highly efficient in re-organising our Turkey charter and also provided lots of assistance in getting our Yacht Security Deposit insurance policy transferred to match our revised charter dates.

Truly worthy of a 5 star rating!

<read more>

UK

Sailing is the perfect family holiday.

Would I go sailing again? OMG yes! Sailing is the perfect family holiday. Boys loved the activities, I enjoy relaxing as well...

Sailchecker.com arranged a sailing cruise her family of 2 sons, daughter & hubby in the BVI with their own.

USA


 Thank you sooo much!

It was sail in the day… party at night. We couldn't have wanted a better skipper or a Spring Break!  Good times...

Arranged for 6 friends to sail Spring Break in the British Virgin Islands for under $500 each.

USA


We had an absolute blast !!

All bookings and confirmations was always accurate with no delays. Our boat was also fabulously maintained and the Skipper new the area extremely well...

Everything was down to the tee.

<read more>

Netherlands