What Qualifications Do I Need to Charter a Yacht?
What Experience or Qualifications Do I Need to Charter a Yacht
What Qualifications Do I Need to Charter a Yacht?
The simplest answer, is that in some locations you don't, in other jurisdictions you do.  In some cases there are flat regulations, in others they are dependant on the gross tonnage of the boat. Even if you meet the sailing qualifications you require to charter a yacht in that country, the operator may have further restrictions to protect their fleet and to comply with insurance criteria.
It's clear what qualification you I need to charter a boat is one of our most frequently asked questions. We have written a detailed article here to guid you, but please don'r hesitate to reach out to us with any query.
What Experience Do I Need to Charter a Yacht?
This is one of our most frequently asked questions. And for good reason.
Whilst skippers and crew offer some great advantages when on a yacht charter, going solo is great too. So let's start by breaking it down:
Experience. In almost all cases – you need some experience. Any yacht charter company offering to charter you a boat without a skipper is probably breaking more than one law. In the end, what experience you need to charter a yacht, comes down to 3 things:

Comfort. What you are comfortable with. In most cases, you will be responsible for other people, and let's not forget someone else's boat.
Charter Area. We rate our charter areas into 5 categories, from easiest, to the tricky. For those interested, the Ionian in Greece would be one of the easiest, sailing the English Channel would be the hardest.
Charter Fleet Operator (CFO). These are the guys who are responsible and the insurance companies. Whatever your agent says, it is the CFO that makes the final decision.

Qualifications. So this depends on 3 further factors:

No restrictions. Areas like the Caribbean spawned the expression "Credit Card Captain". Which means you just need to convince the operator, and off you go.
State Restrictions. Most countries have some kind of legislation. But as you want boats to come to your shores, regulations vary a lot.
EU Restrictions. Some countries in the EU have signed up the EU's laws.
What's Normally Required?
To skipper a bareboat charter yacht or participate in a flotilla, outside the Caribbean, you are likely to need a practical sailing certificate equivalent to RYA Day Skipper Practical, International Certificate of Competence (ICC), ASA 103, 104 or above.
For charters in Greece now, you required to hold an ICC certificate. You must also be assisted by a member of the crew who is over 18. They don't need to have a formal sailing qualification but will be named in the books.
For charters in Croatia, Malta and the Canaries, at least one member of the crew or the skipper will also need a VHF licence.
If you wish to take part in a flotilla but do not have an RYA qualification then you may like to choose our 'Learn on flotilla' option in the Ionian.
Alternatively, RYA qualifications can be obtained through RYA sailing schools in the UK or from one of our overseas centres in Gibraltar, Greece, Turkey, or Croatia.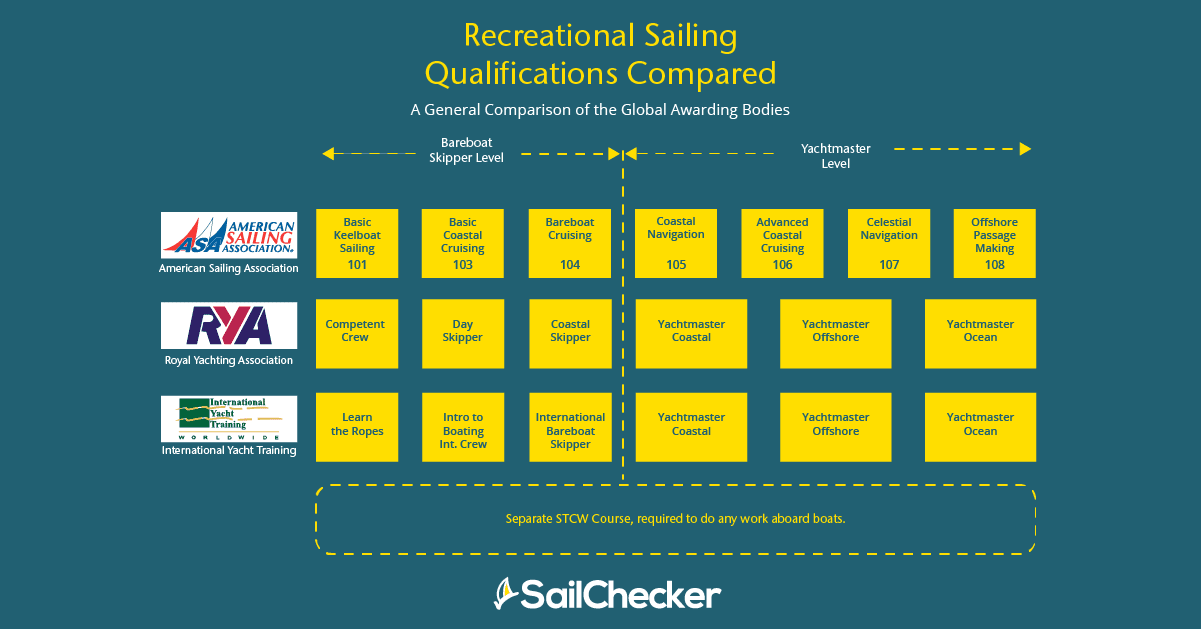 What Experience or Qualifications do I Need to Charter a Yacht Quick Links
1. What can I do with my sailing qualification?
I have a sailing qualification, now where do I start?
So, if you have the experience and a qualification, then it's likely you are going to be able to charter a yacht. The best option if you are looking for a yacht charter or flotilla, is to just ask.
Because the final answer and up to date requirements are always well-known by one of our agents and each operator – they always have the final decision.
2. Our charter qualification service
If we don't know about a qualification – We know who does know and we can always ask
We have never had a client refused at check-in, and we can ensure that it does not happen to you.
So, whether you are just curious, planning for the future, or looking to charter soon, figuring out qualifications is important.
So, we have created this simple article to help you understand what you are likely to need.
You check to see if you have the experience and qualifications required to charter a yacht
As we have pointed out, policies vary across countries and operators, so it makes sense to check. Whether you are a SailChecker customer or not, we will happily review your qualifications and experience.
3. What qualifications do I need to charter a yacht?
Recognised Qualifications
National Governing Bodies. The RYA is still the most globally recognised qualifications franchise. Other national frameworks such as the American Sailing Association (ASA) are all generally accepted worldwide.
International Certificate of Competency (ICC). In certain European countries, it is, in theory at least, mandatory to hold an International Certificate of Competency (ICC) if you want to bareboat charter a yacht. We discuss the relevance of that qualification here. It is a requirement for ALL Greek yacht charters.
Exceptions to ICC. There are notable exceptions, in Northern Europe and Scandinavia the ICC is generally not required; that said it is still best to check with the individual charter company before you book. For any SailChecker reliant on a resume of sailing, we will always check this out for you and advise you accordingly.
The ICC is Resolution 40 passed by the United Nations Economic Commission for Europe (UNECE). In essence, the ICC is designed to provide the documentary assurance, from one country to another, that the holder meets the levels of competence laid down in the Resolution.
4. ICC Accepted Countries
The following countries have adopted Resolution 40 and officially accept the ICC as proof of boating competence within their territory:
Austria
Belarus
Belgium
Bulgaria
Croatia
Czech Republic
Finland
Germany
Hungary
Ireland
Lithuania
Luxembourg
Netherlands
Norway
Romania
Slovakia
Switzerland
United Kingdom
What Qualifications Do I Need to Charter a Yacht?
5. Countries Requiring Additional Proof
The following have again not officially adopted Resolution 40 but usually require some other proof of boating competence before allowing a bareboat charter:
Greece
Moldova
Portugal
Spain
Russian Federation
Serbia
Sweden
Ukraine
United States
6. Not Adopted but Accepted
The following have not officially adopted Resolution 40 but do accept ICC's for use in their territorial waters:
7. What Qualifications Do I Need to Charter a Yacht - Inland Waterways
Inland waterways generally require an ICC with CEVNI (Code European Des Voies De Navigation Interieure (Revision 2)) inland endorsement. You will normally need to pass an examination to get an INLAND endorsement on an IYT International Certificate of Competence to operate a boat on European waterways. We always recommend researching the regulations contained in the European Code for Inland Waterways yourself and take the CEVNI examination and/or attend a suitable course.
8. What Qualifications Do I Need to Charter a Yacht in Croatia
One of the most tricky places to charter is Croatia. You can download an exhaustive list of all accepted qualifications in Croatia below. They have just updated in 2020 for new accepted qualifications.
[optinlocker]
Check it out click here to download the authorised list of qualifications require in Croatia.
[/optinlocker]
Amazing Sailing Experiences
Our Amazing Customers

Great family vacation.


I didn't think sailing with my family would be so much fun...

Sailing for the first time.

USA


I recommendate them !

Everything went smooth, the paper processing, special requests and the specs of tht check-in procedure. Boat was also in good shape, so no complaints and a worry free holiday...

We had a great experience with booking through sailchecker.

<read more>

USA


Great service from Kate.

Informative and looked for the best value for our family. Very good customer service on this side and in Greece. Great boat and skipper...

Fantastic holiday from start to finish.

<read more>

United Kingdom


Very professional outfit!


They were very responsive and very quick to answer questions via email and instant chat. They had extensive knowledge of the area...

We will most definitely use their services for our next bareboat sailing vacation.

<read more>

USA


Sail checker were professional from start to finish - we wouldn't book through anyone else!

Sailchecker were professional from start to finish - and were awesome dealing with a problem! Our first Yacht had serious issues and sail checker helped us to resolve it...

They are easy to deal with, straightforward and honest and I would recommend them to anyone planning a charter holiday.

<read more>

UK


Coronavirus pandemic support has been brilliant!

During the Coronavirus pandemic, Kate and her colleagues at Sailchecker have performed brilliantly. They have been considerate and highly efficient in re-organising our Turkey charter and also provided lots of assistance in getting our Yacht Security Deposit insurance policy transferred to match our revised charter dates.

Truly worthy of a 5 star rating!

<read more>

UK

Sailing is the perfect family holiday.

Would I go sailing again? OMG yes! Sailing is the perfect family holiday. Boys loved the activities, I enjoy relaxing as well...

Sailchecker.com arranged a sailing cruise her family of 2 sons, daughter & hubby in the BVI with their own.

USA


 Thank you sooo much!

It was sail in the day… party at night. We couldn't have wanted a better skipper or a Spring Break!  Good times...

Arranged for 6 friends to sail Spring Break in the British Virgin Islands for under $500 each.

USA


We had an absolute blast !!

All bookings and confirmations was always accurate with no delays. Our boat was also fabulously maintained and the Skipper new the area extremely well...

Everything was down to the tee.

<read more>

Netherlands