Sailing with Children – Is it Safe?
Our Tips and Advice on Sailing with Children
Family, Child Friendly, Sailing Holiday
Sailing with Children. Sailing with Children can truly be the perfect family holiday, and if you are in need of any inspiration, check out one of our most popular blogs, 8 Reasons to go sailing with Children.  Children of all ages can have the freedom to enjoy the outdoors. the sea and experience a true adventure.  Nothing can be so engaging for a family than to spend it together on a yacht in a beautiful destination.  You will leave your children with a legacy of truly memorable experiences to reflect on in later life.
Considerations Sailing With Children. If you are considering a holiday on a yacht for a week or more with a young family, you probably have many questions, chief of which, is it safe for children?  There are dangers associated with sailing, and the answer very much depends on the age of the children, where you sail, when you sail and who with.
Frequently Asked Questions
Can Kids fo Sailing?
There is no exact age for when kids and children go sailing or start to learn. The exact answer depends on many considerations, from the skill and experience of the parents or sailors to the type of sailing and where. Younger sailors will need much greater supervision, even 1:1, and that person must not be considered for other safety duties.
At what age should you stop sailing?
There is no age at which you should stop sailing. There is the consideration of physical ability, and that will gain depend on a range of factors from the skill and experience of the other sailors, to the type of boat, where, on what kind of day, and for how long. In reality, knowing when you should stop sailing requires a case by case assessment.
Are Catamarans Safe for toddlers?
No boat is safe or unsafe for toddlers, it's a combination of a number of factors. Only a careful assessment of the individual trip, the boat, the experience of the other sailors will get you to an answer you can rely on. That said, catamarans are considered safer for toddlers than monohulls due to their innate stability and size. That said, It's more difficult to fence in a catamaran and the monohull healing can give toddlers the sense of danger they need in order to be cooperative.
Can you sail with a baby?
The answer is yes and you can do it safely. Like all risk, there are many factors that need to be taken into account before doing so. It will be a combination of whether the baby is still young enough to sit in a car seat strapped in (something a toddler is unlikely to tolerate for very long), the skill and experience of the other sailors and whether there are sufficient crew to give the baby 1:1 attention in a safety situation.
Some Considerations:
Age of children
If your children are very young, say under 24 – 36 months, and can tolerate being placed in a car seat, should the circumstances dictate, then you should have no issues.  I have two boys who both sailed regularly at this age.
The Inbetweeners
If children, who are looking to join you on a sailing charter are a little older, but not yet at the age where they understand danger (maybe 5 or 6), then further precautions are recommended.  Should the need arise, there should be one adult spare (not required for sailing) to deal with each child of that age (1:1).  If you are sailing with an agency skipper, they will give full advice.  SailChecker.com have expert consultants who will give you free advice should you wish to explore the possibilities.
When children are between 6 & 9, then the ratio of supervision can drop to 1:2 (1 adult to two children) and once your young ones are 10 or 11, and are able to wear proper life jackets, then you are into standard precautions for any sailing trip.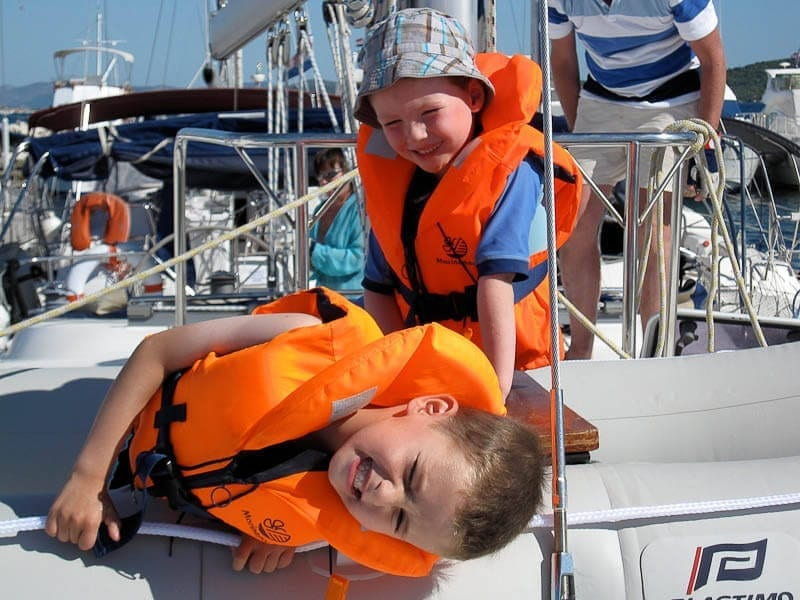 Where you Sail
Simply, some places are easier to sail than others for a variety of reasons.  Some regions are renown for their freakish winds, whilst others have some stable reputations.  Other areas may have tricky navigation, shallow water or tides to contend with.
When you sail
The time of year can affect the risk tremendously   Certain phenomenal weather patterns only exist in certain months and sea temperature is something worth taking into account.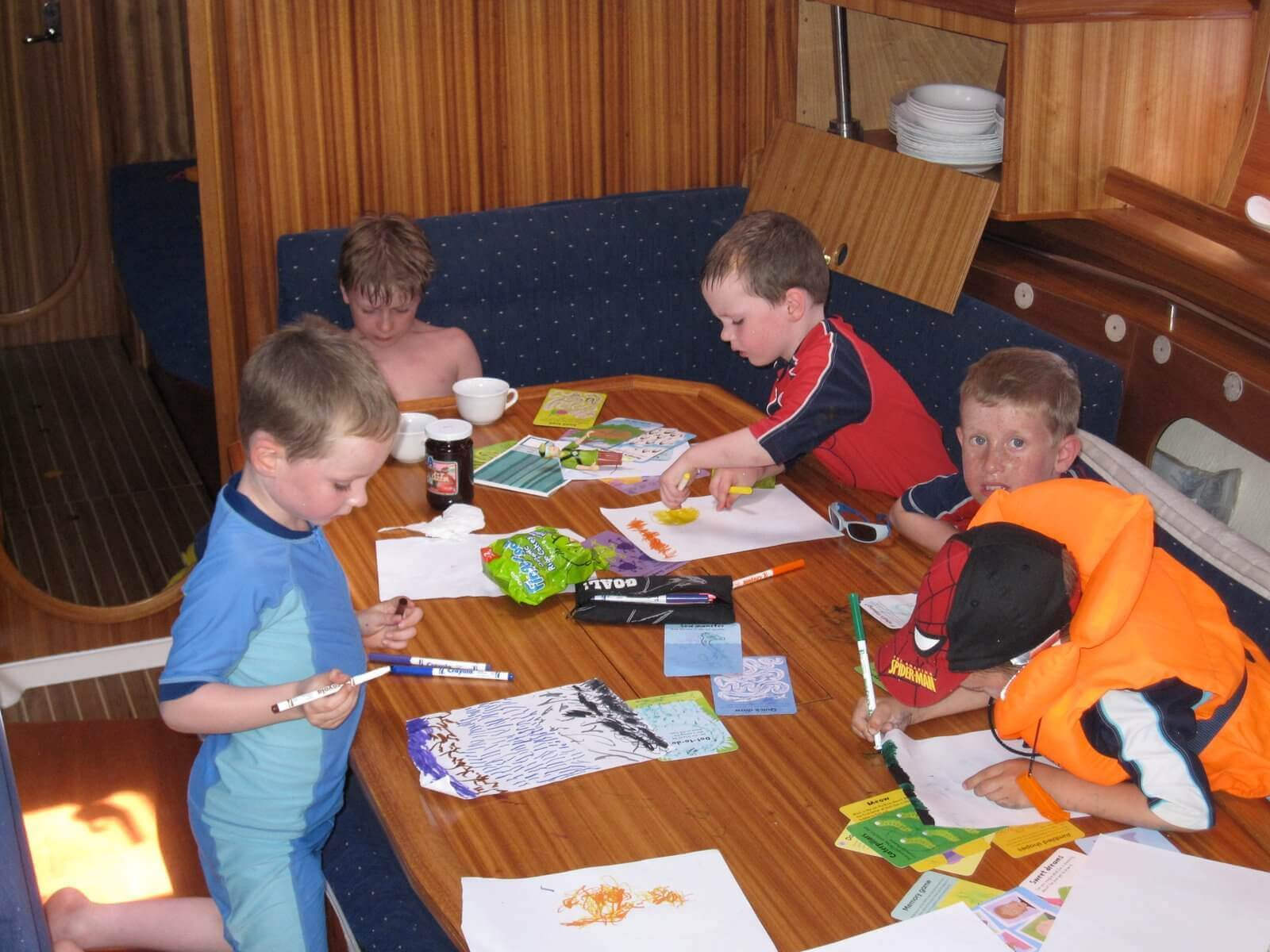 Who you sail with
The number of competent sailors on board, the experience of your skipper or captain are all part of the mix.  A local with knowledge of the seas and weather is a great bonus.
If you have never sailed before, you will need to "hire" a skipper. This type of charter is called Crewed Charter.  An alternative for those with limited experience (and often chosen by sailors with plenty of experience) is a flotilla.  This is where a group of charter yachts sail in company providing strong mutual support and increased safety.  There is always a lead boat with highly qualified crew to come to your aid should you require assistance.
More Information
For more information on sailing with children Family Sailing Charters or Flotilla sailing, please contact info@SailChecker.com where a consultant will be delighted to advise you on the perfect arrangement to suit your own circumstances. And with the whole the market to compare from we can assure you of the very best value.