See Some the World's Biggest Yachts Mooring in this Sheltered Sound
British Virgin Islands Sailing Itinerary BVI 7 Day Itinerary
Day 3

Marina Cay/Trellis Bay → Bitter End Yacht Club or Leverick Bay (3.2 NM)
One could easily choose Virgin Gorda Sound as a 7-day destination and still have places left to visit:

Colquhoun Reef
Vixen Point
Saba Rock
Eustatia Sound
Biras Creek

On our 7-Day Itinerary, see this as a day to kick back and relax. We recommend either picking up a bouy at Saba Rock or Bitter End, or visiting Leverick Bay (Pussers Franchise) at the end of the sound. For those looking for even more chill – head for Drake's Anchorage.

Bitter End
Leverick Bay
Drake's Anchorage
Colquhoun Reef.  If you are anchored at Little Harbour, it's a short passage over to Pelican island and the Indians for a morning snorkel. From Cooper Island, nip across to Salt Island and snorkel over the amazing wreck of the RMS Rhone.
Vixen Point (Prickly Pear Island). Moorings, Beach bar, Restaurant.
Avoid the crowds with a little less visited areas, yet no less appealing. Enjoy the casual bar atmosphere where they serve a mean margarita.
Saba Rock. Hotel, Ferry, Wifi, Marina, Restaurant.
Originally developed by Bert Kilbride, Saba Rock is a tiny island sitting astride the channel to Eustatia Sound between the Bitter End on Virgin Gorda and Prickly Pear Island. The island boasts an amazing resort for such limited real estate. It includes a marina, gardens, a hotel, restaurant, gift shop, and a beach with hammocks to get rid of that last stubborn bit of stress.
Bitter End Yacht Club. See Below.
Eustatia Sound. To the east of the sound, beyond Vixen Point, is a huge mooring field associated with Bitter End Yacht Club. You will find a privately marked channel to the docks of Bitter End, and another marking a channel past Saba Rock and into Eustatia Sound.
Biras Creek. See Below.
Leverick Bay. See Below.
Drake Anchorage. See Below.
It includes a marina, gardens, a hotel, restaurant, gift shop, and a beach with hammocks to get rid of that last stubborn bit of stress…
Unwind by the Pool or Enjoy Adrenaine Fueled Watersports
British Virgin Islands Sailing Itinerary
Locals Choice. With so much to choose from, it's hard to know what to squeeze in 7 days in these wonderful islands. To assist us, we used the help and guidance of our partners, together with the experience of our team, in the islands to bring you our highlights.
Our BVI Sailing Itinerary will ensure that you will discover secluded coves, impossibly beautiful snorkeling spots, and superbly gorgeous islands virtually untouched by humans.
We love to Hear From You. Why not leave us a comment at the bottom of this blog.

Prices. Typically you can sail for €345 EUR/ £305 GBP/ $495 AUD per person – Family (2 adults, 2 children) (01 Jan and 31 Mar)
Drake's Anchorage.
Tucked up to the east behind Colquhoun Reef and to the north of South Bay, Drake's Anchorage as it is known is a delightful spot and a little off the beaten path. The breeze flows across the anchorage but the reef breaks up any chop. This is perfect for the hotter months and for those seeking a little more calm and tranquillity.
Leverick Bay Resort
Navigation: 1Nm SSW of the Colquhour Reef Channel
Services: Ferry, Moorings, Full-service marina, Restaurant, Dive shop, Hotel, Victuals (groceries)
Ashore.  Located on the northern shore of Virgin Gorda, Leverick Bay is an entertaining water sports recreation centre. You will find all the amenities you need including a pool, supermarket, and air-conditioned rooms and villas.
Marina.  The marina has 25 berths with electricity hook-ups, fuel, ice, showers, rubbish disposal, and laundry facilities. Both moorings and dock customers are entitled to 200 gallons of fresh water and a free bag of ice along with use of the resort's swimming pool.
Bitter End Yacht Club (Link)
Waypoint: BV304 – 18°29'57 N; 64°21'15 W.
Navigation: SE North Borda Sound
Services: Alongside Berths, Moorings, Watersports, Ice, Restaurant, WiFi, Store, Water, Garbage, Hotel, Gift Shop, walking trails, and Swimming Pool.
Ashore. The Bitter End is a Yacht Club dedicated to yachtsmen. The Club restaurant serves breakfast, lunch and dinner and the English Pub serves drinks as well as lunch and dinner daily from 11am until late. Bitter End often has entertainment on set nights – be sure to ask your operator or locals who will all know.
Watersports. Bitter End is renown as a watersports centre with over one hundred boats to hire, including windsurfers, SUPs, kite boarding, fishing, Sunday regattas, and sailing lessons.
Biras Creek.
If you seeking a bit of class in the islands, head ashore in Biras Creek. The Biras Creek Restaurant is well-known for its superb meals served in a romantic atmosphere. The resort requests that after 5:30pm men wear trousers and a collared shirt and ladies wear suitable resort attire.
Bitter End Yacht Club Watersports
Skippers: Why Not Challenge Your Crew to a Race?
Get the Complete 7 Day Downloadable Guide to Sailing in the British Virgin Islands
Get the Whole of this 7 Day Guide in an Easy to Read downloadable Format.
[optinlocker]
Click here to view or download
[/optinlocker]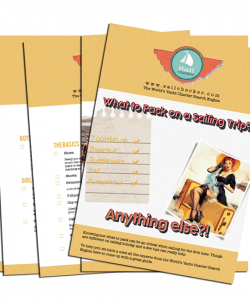 12 More Exciting Destinations to Learn About!
Give us a Call or Send us an Email.
We're here to Help.