Day 4 – Anegada – The Sunken Island
Enjoy Freshly Caught Lobster and Explore on Bikes or Hire a Jeep!
British Virgin Islands Sailing Itinerary BVI 7 Day Itinerary – Anegada
Day 4

Bitter End Yacht Club or Leverick Bay → Anegada (15.2 NM)
Known as the Sunken Island, the island has a very low profile and is surrounded by coral heads. This passage is not for the novice sailor. Leave Norther Sound before 9am to arrive in the wed end of Anegada with good overhead light in order to see the coral. Read out blog on how to navigate coral.
Loblolly Bay. The beach is stunning stretch of pink coral sand which changes colour are would walk through the wet foreshore.  It is ranked one of the nest beached in the world's boasting miles of secluded, unspoiled sand lined with hammocks and sun shelters.
Flamingo Pond. This pond is Located in the middle of Anegada Island and can be accessed by bike, hire car, or taxi. Flamingos and other sea birds have been re-established at this protected pond area.
Cow Wreck Beach. Possibly the most laid back beach you will EVER visit.
Lobster. This is arguably the best place to eat lobster in the world. Your really spoilt for choice, we personally love Potters or the Anegada Reef Hotel (not any hotel you might be expecting!)
Visit unspoiled Anegada; simply nothing between you and Africa save the sparkling blue-green water, white sand beaches and stunning coral reefs.
Unwind by the Pool or Enjoy Adrenaine Fueled Watersports
British Virgin Islands Sailing Itinerary
Locals Choice. With so much to choose from, it's hard to know what to squeeze in 7 days in these wonderful islands. To assist us, we used the help and guidance of our partners, together with the experience of our team, in the islands to bring you our highlights.
Our BVI Sailing Itinerary will ensure that you will discover secluded coves, impossibly beautiful snorkelling spots, and superbly gorgeous islands virtually untouched by humans.
We love to Hear From You. Why not leave us a comment at the bottom of this blog.

Prices. Typically you can sail for €345 EUR/ £305 GBP/ $495 AUD per person – Family (2 adults, 2 children) (01 Jan and 31 Mar)
Setting Point – Anegada
Waypoint: BV410 – 18°42'40 N; 64°24'50 W.
Navigation: 11.4Nm North Gorda Sound.
Services: Moorings, Ice, Restaurants, Beach Bar Entertainment, Car Rentals, Rubbish Disposal, Taxis, Dive Tours, Gift Shops, Hotels.
Ashore. A host of things to see and do from an Iguana Sanctuary, to a Conch Grave yard.
Loblolly Bay
Named by real pirates, Loblolly Bay remains one of the highlights of the British Virgin Islands. Be sure to order your Lobster before 12am as you make your passage, once you get ashore, cross to Loblolly Beach where you can often watch your dinner being caught.
Anegada Beach Hotel & Potters by the Sea
One of our favourite places to eat lobster in the world, never mind the British Virgin Islands, are both in Anegada.
Conch Graveyard
It kinda has to be seen to be believed.
Bitter End Yacht Club Watersports
Skippers: Why Not Challenge Your Crew to a Race?
Get the Complete 7 Day Downloadable Guide to Sailing in the British Virgin Islands
Get the Whole of this 7 Day Guide in an Easy to Read downloadable Format.
[optinlocker]
Click here to view or download
[/optinlocker]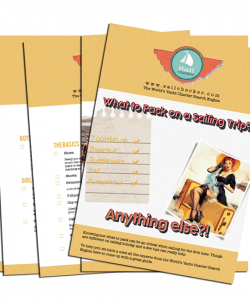 Got a Question on our Itinerary?
Give us a Call or Send us an Email.
We're here to Help.