Don't know what boat or yacht charter fits your needs, lifestyle or budget?
Worry no more; we have prepared this simple yacht charter guide that will provide you with a better understanding of the boat and charter type that best suits you — whether it is a monohull or catamaran, a sailing yacht or a motor yacht, crewed or bareboat — we hope to bring a clearer picture of your dream charter!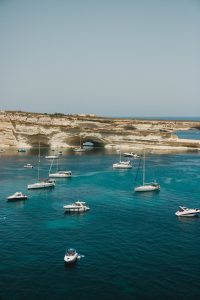 What is a Bareboat Charter
Bareboat Charter is an agreement between a Yacht Owner or a Fleet Operator (chartering the boat on the owner's behalf) that gives the charterer full utility of the charter yacht, together with responsibility, for the vessel for an agreed time, in return for payment.
Read more about What is a Bareboat Charter.
Skippered Yacht Charter
A Skippered Yacht Charter is defined as a charter where the skipper is hired under a separate agreement. The Charter will be priced without a crew, with the skipper added as an extra to the Charter. This arrangement can be made entirely separate from the Charter, either directly with a skipper or through a crewing agent. Yet, typically it is through the same operator or yacht charter agent.
Read More about What is a Skippered Chater
Crewed Yacht Charter
With a professional captain and crew, a crewed yacht charter offers the ultimate comprehensive and integrated sea vacation. The crew, with customizable size, oversees all other tasks on board, such as stewarding, cleaning, and chef duties. Overall, this offers a luxurious and complimentary yacht charter experience.
The cost can range based on the type, size, age, location, equipment levels and time of year. The cheapest versions start at around $1,000 up to $20,000+. Read more about What is a Crewed Charter.