Avoiding Those Beautiful & Stunning Dangers Beneath
Our Guide to Navigating Coral
We Look at the Key Ways to Navigating Coral Safely
The ability to navigate coral when necessary is an essential skill. There are the obvious dangers to going aground, but it's important to give consideration to the stunning underwater landscape beneath.  It is a true wonder of nature and, as we all know, take many years to evolve.
In good light conditions, coral reefs show up clearly and are relatively easy to avoid. In bad light, reefs are difficult to distinguish.
We hope you enjoy our lighthearted tips, they are intended as a guide only and you should not rely on this post alone. If you do have something to add, or a story to tell, we hope to improve on the information using your comments and suggestions (scroll to the bottom to leave us a comment).
It is a true wonder of nature and, as we all know, take many years to evolve.
The Lighter the Blue
THE LIGHTER THE BLUE, the shallower the water should be the coral pilot's mantra, and green/brown usually means a coral head lying close beneath the surface. In bad light it's best to have the sun high in the sky and, if possible, limit your sailing among coral to within two or three hours either side of local noon. Better, too, to have the sun at your back, especially if it is lower in the sky.
Post a Lookout
Post a good lookout, preferably up the mast. The height will ensure that reefs can be easily seen in time for avoiding action. Lookout and helmsman should be wearing polaroid sunglasses, which cut out glare and dramatically improve visibility.
Agree Signals
Arrange some simple hand signals between lookout and helm. The vigorous continental arm waving approach can be highly entertaining, but is rather hit and miss, and generally more hit than miss. It is often enough to simply differentiate between pointing at a danger (perhaps with a single finger) and indicating a required turn (with a flat hand). Both signals can be accentuated with movement, but the danger of confusing them is obvious.
Entering Lagoons
Find a Transit
One last tip on entering lagoons. Passages through barrier reefs are notoriously difficult to spot. Try to confirm your line with a visual bearing onto the island, as chart datums are often uncertain in far-flung locations. It will help to keep you on track too – there is often a swell running, as well as a current.
Get the Complete How to navigate Coral Guide here
Get the Whole of this blog in an Easy to Read downloadable Format.
[optinlocker]
Click here to view or download
[/optinlocker]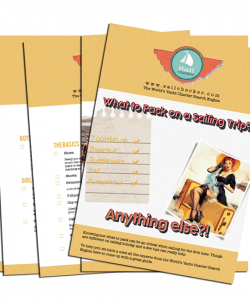 Beyond the Reef
So Much to Enjoy. Remember, Your Best Defence Against Coral is Your Eyes
Your Opinion
Do you have any comment on what we have suggested, or perhaps an idea of your own. Please leave us a comment below and we'll be sure to respond.
If you are looking to charter, our helpful staff would be delighted to help you out. Write to us info@sailchecker.com, we would be delighted to help.
Our Amazing Customers

Great family vacation.


I didn't think sailing with my family would be so much fun...

Sailing for the first time.

USA


I recommendate them !

Everything went smooth, the paper processing, special requests and the specs of tht check-in procedure. Boat was also in good shape, so no complaints and a worry free holiday...

We had a great experience with booking through sailchecker.

<read more>

USA


Great service from Kate.

Informative and looked for the best value for our family. Very good customer service on this side and in Greece. Great boat and skipper...

Fantastic holiday from start to finish.

<read more>

United Kingdom


Very professional outfit!


They were very responsive and very quick to answer questions via email and instant chat. They had extensive knowledge of the area...

We will most definitely use their services for our next bareboat sailing vacation.

<read more>

USA


Sail checker were professional from start to finish - we wouldn't book through anyone else!

Sailchecker were professional from start to finish - and were awesome dealing with a problem! Our first Yacht had serious issues and sail checker helped us to resolve it...

They are easy to deal with, straightforward and honest and I would recommend them to anyone planning a charter holiday.

<read more>

UK


Coronavirus pandemic support has been brilliant!

During the Coronavirus pandemic, Kate and her colleagues at Sailchecker have performed brilliantly. They have been considerate and highly efficient in re-organising our Turkey charter and also provided lots of assistance in getting our Yacht Security Deposit insurance policy transferred to match our revised charter dates.

Truly worthy of a 5 star rating!

<read more>

UK

Sailing is the perfect family holiday.

Would I go sailing again? OMG yes! Sailing is the perfect family holiday. Boys loved the activities, I enjoy relaxing as well...

Sailchecker.com arranged a sailing cruise her family of 2 sons, daughter & hubby in the BVI with their own.

USA


 Thank you sooo much!

It was sail in the day… party at night. We couldn't have wanted a better skipper or a Spring Break!  Good times...

Arranged for 6 friends to sail Spring Break in the British Virgin Islands for under $500 each.

USA


We had an absolute blast !!

All bookings and confirmations was always accurate with no delays. Our boat was also fabulously maintained and the Skipper new the area extremely well...

Everything was down to the tee.

<read more>

Netherlands
Leave us a quick question here, or call your local office, the numbers are located in the footer below. When not arrange a call back?