Learning to Sail
You might be landing here to get the answer to one of our lighthearted puzzles. If not, our fans and followers were simply asked what happens next and told that there would be answers for Beginners, Intermediate and Advanced sailors.
If you enjoy these lighthearted snippets of sailing info, please let us know in the social media comments below and we promise to keep them coming.
If you would like to receive out tips, exclusive offers and advice, just pop your name and email below and we'll ensure you're kept right up to date.
What Happens Next?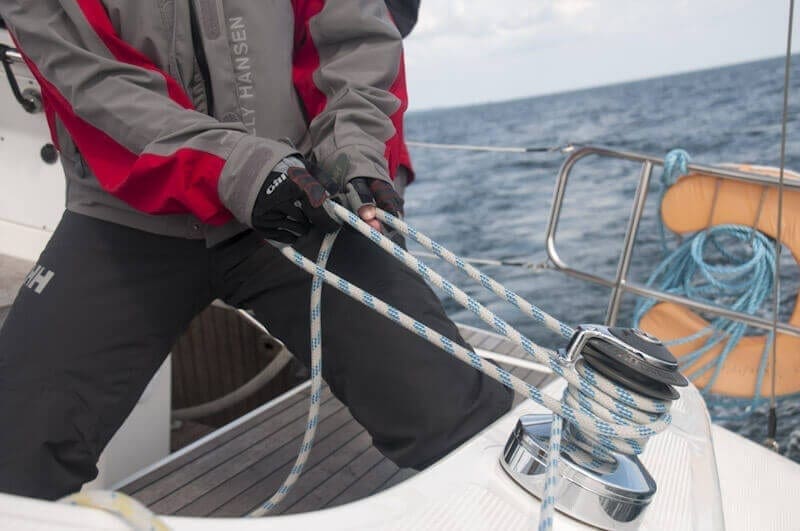 Our fans and followers we're asked to work out what is going on. There are of course deliberately lots of possible answers, so if you go something else, it doesn't mean it is wrong.  Why not pop it in the comments box below and let our community discuss!
Beginners
Port Tack – You will see the picture is taken look at the stern and the yacht is heeling (leaning over)to the Port side (left if you were facing the bows (front). We can this a "Port Tack" and becomes very important for the "rules of the road". The "rope" errm line, (rope is not a term not favoured by us nautical types), is called a "sheet". The crew member is preparing to Tack – moving the yacht through the wind.
Intermediate
Heeling Effect – The boat is not level as you can see from the horizon. The effect is due to the flow of the wind over the sail literally pulling her over. The keel under the yacht translates the lateral resistance into forward motion, and that's how we sail! Cool huh! No keel, and we would just go sideways!
Advanced
Racing Tack – If you look, the crew member has two extra anti-clockwise turns around the winch ending in a loop. When she let's go with her right hand, two of the clockwise turns on the winch will be immediately unraveled leaving the perfect one turn to take any kinks out of the sheet as we let draw. This is NOT favoured by all skippers, but I am a bit of a fan on cruising yacht that almost always have self-tailing winches.
Baltic Yacht Charter.
The image is taken from a recent sailing trip in the Baltic sea. All of the crew were relaxing and learning of a superb sailing adventure from Germany to Denmark and Sweden and back… If you are interested in learning to sail and have an adventure; let us know in the comments box and someone will get back to you shortly.
Did you learn anything? Love to hear what you think!