The 3 Best Caribbean Sailing Destinations
For Some Time The Caribbean Has Been Seen As The Charter Destination
Explore Paradise on Earth
In our hunt for best Caribbean sailing destinations, we came across the haunt of  buccaneering pirates who's magnificent islands have been squabbled over by the French, Dutch, English and Spanish. These islands in the Caribbean Sea hold a Special allure to those who count Robert Louis Stephenson's Treasure Island among their favourite books. This dark and troubled history has only served to enhance the romance that surrounds them.
For sometime the Caribbean has been the charter destination, a playground that promises steady trade winds, warm seas, sparkling colours and, of course, as many variations of rum punch as there are beachside bar tenders to mix them. Yet there is more than enough adventure for those seeking to get way from the crowd too, try Castro's Cuba before it's too late.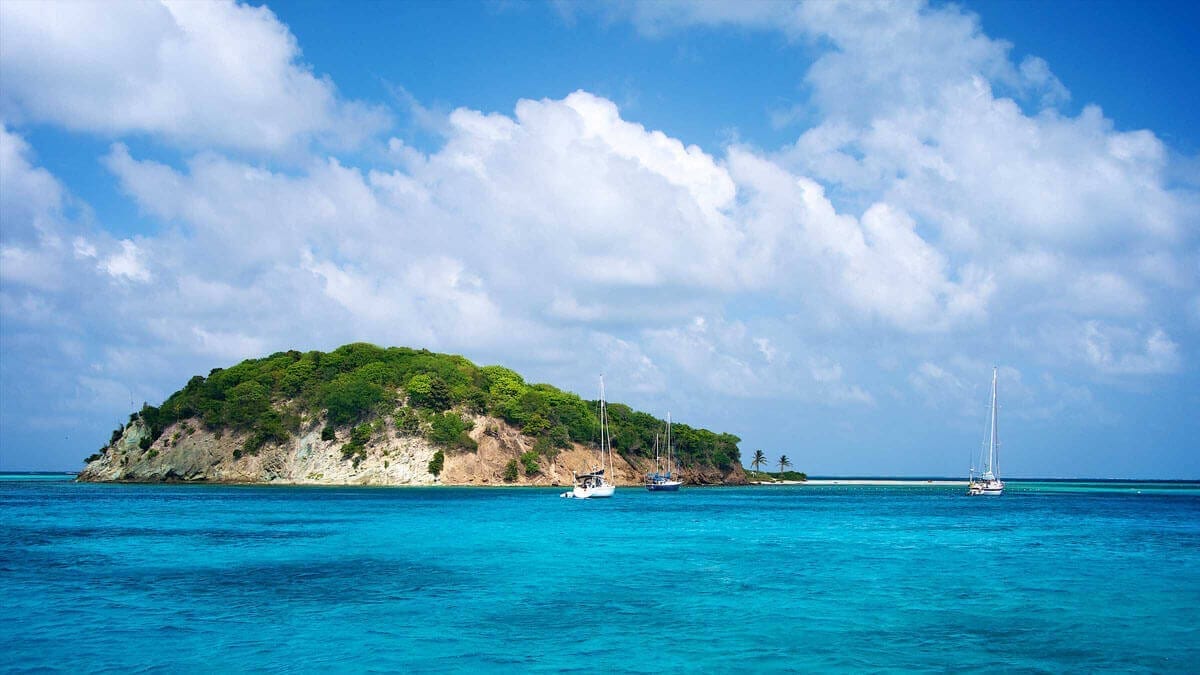 Top 3 Best Caribbean Sailing Destinations
1. British Virgin Islands
"Nature's Little Secret"
The British Virgin Islands was the world's premier sailing destination until hurricane Irma struck this hurricane season. We don't think it will be too long before this stunning paradise returns to normality. For the latest on the region, do contact our well informed consultants who will be delighted to help you out.
With close to all year round cruising in the safe, sheltered waters of the Sir Francis Drake Channel, it is a mecca for those who want perfect sailing conditions, short hops, genuine laid-back Caribbean hospitality, and an stunning array of natural sights.  The famous 'Baths', a rock formation creating wonderful warm bathing pools, are one of the highlights of any visit.
Whether you want to bareboat charter or just join others on a cabin charter, it is the ideal destination for everyone who wants to have fun and relax while sailing.
British Virgin Islands
Things to do in the BVI, one of our best Caribbean sailing destinations.
Visit the Baths (Virgin Gorda)
Visit White Bay (Jost Van Dyke)
Go snorkeling, windsurfing or kitesurfing
Visit the Rhone National Marine Park (Road Town)
Visit Loblolly Beach (Anegada)
Visit Deadman's Bay (Peter Island)
Visit the Dolphin Discovery Tortola (Road Town)
Have a drink or dinner at the Scaramouche Lounge Bar & Restaurant (Tortola)
Eat the famous Conch Fritters and drink rum!
2. Cuba
A country of indescribable magic.
Cuba is like a prince in a poor man's coat. Travel to Cuba can be an exhilarating roller-coaster ride with rich history, intoxicating atmosphere and crumbling, but magnificent architecture. Particularly stirring in the Unesco-listed cities – Havana, Trinidad, Cienfuegos and Camagüey – where grandiose squares and cobbled streets tell erstwhile tales of opulence and intrigue.
What is not in question, is that sailing is underdeveloped and the perfect way to see the very best of this country.  Both Cabin Charter and Bareboat Charter are available from Cienfuegos on it's southern shores.
The best area for sailing is around –  the Jardines de Reina, María la Gorda and the Isla de la Juventud – are all fairly isolated, making this adventure even more exciting. The turquoise waters are ideal for sailing – preferably on a cat – and exploring this area's exquisite hidden beauty.
Things to do in the Cuba.
Time to experience Castros Cuba before it disappears and see one of the truly one of the Best Caribbean Sailing Destinations.
Go snorkeling and diving
Visit the Playa Paraiso (Cayo Largo)
Explore the Old Havana
Visit the Dolphinarium, Cayo Naranjo (Holguin)
Visit the National Art Museum (Museo Nacional de Bellas Artes de Cuba – Havana)
Visit the El Nicho Waterfalls (Cienfuegos)
Swim in Saturno Cave (Varadero)
Taste the traditional cuisine at Finca Agroecologica El Paraiso (Vinales)
3. St Vincent and the Grenadines
32 islands and cays wait for you to explore them
This is great balance for those looking for a little more sailing that the British Virgin Islands offers, which still enjoying the wonderful warmth of the Caribbean people
Only 9 of the 32 islands are populated. From St. Vincent's lush tropical rainforest full of eco-adventures, to the idyllic beaches, coral reefs and turquoise lagoons of The Grenadines, SVG is a tropical paradise for yachting, scuba diving, enjoying nature, and relaxing in luxurious hideaways. Grenada – a rolling, mountainous island, abundant with wildlife, sea life and plant life.  It offers a world of itinerary options for sailors who are a bit more experienced and is the perfect place to start your sailing vacation in the Windward Islands. Ideal for one way trips to St. Vincent.
Experience the tranquil warm waters and gentle trade winds that have enticed generations of sailors to this part of the Caribbean.
Things to do in the Grenadines.
Although a little more sailing experience is required in this islands group, let's not forget it is certainly one of the best Caribbean Sailing destinations – maybe you should consider hiring a skipper?
Explore the Tobago Cays
Go snorkeling and diving
Visit the Lagoon Beach (Mustique)
Follow the Vermont Nature Trail (St. Vincent)
Visit the Fort Charlotte (Kingstown)
Visit the Mayreau Catholic Church (Mayreau)
Visit the Bat Cave (St. Vincent)
Have a drink or dinner at the Sugar Reef Cafe (Bequia)
Amazing Sailing Experiences
Our Amazing Customers

Great family vacation.


I didn't think sailing with my family would be so much fun...

Sailing for the first time.

USA


I recommendate them !

Everything went smooth, the paper processing, special requests and the specs of tht check-in procedure. Boat was also in good shape, so no complaints and a worry free holiday...

We had a great experience with booking through sailchecker.

<read more>

USA


Great service from Kate.

Informative and looked for the best value for our family. Very good customer service on this side and in Greece. Great boat and skipper...

Fantastic holiday from start to finish.

<read more>

United Kingdom


Very professional outfit!


They were very responsive and very quick to answer questions via email and instant chat. They had extensive knowledge of the area...

We will most definitely use their services for our next bareboat sailing vacation.

<read more>

USA


Sail checker were professional from start to finish - we wouldn't book through anyone else!

Sailchecker were professional from start to finish - and were awesome dealing with a problem! Our first Yacht had serious issues and sail checker helped us to resolve it...

They are easy to deal with, straightforward and honest and I would recommend them to anyone planning a charter holiday.

<read more>

UK


Coronavirus pandemic support has been brilliant!

During the Coronavirus pandemic, Kate and her colleagues at Sailchecker have performed brilliantly. They have been considerate and highly efficient in re-organising our Turkey charter and also provided lots of assistance in getting our Yacht Security Deposit insurance policy transferred to match our revised charter dates.

Truly worthy of a 5 star rating!

<read more>

UK

Sailing is the perfect family holiday.

Would I go sailing again? OMG yes! Sailing is the perfect family holiday. Boys loved the activities, I enjoy relaxing as well...

Sailchecker.com arranged a sailing cruise her family of 2 sons, daughter & hubby in the BVI with their own.

USA


 Thank you sooo much!

It was sail in the day… party at night. We couldn't have wanted a better skipper or a Spring Break!  Good times...

Arranged for 6 friends to sail Spring Break in the British Virgin Islands for under $500 each.

USA


We had an absolute blast !!

All bookings and confirmations was always accurate with no delays. Our boat was also fabulously maintained and the Skipper new the area extremely well...

Everything was down to the tee.

<read more>

Netherlands