Experience A Greek Sailing Odyssey
Prepare to be Overwhealed by the Beauty and Sense of History
Greek Sailing Adventures
Cruising the Greek Oceans of History and Mythology
Overview
If you're seeking beauty, history and great cruising grounds, look no further than a Greek Sailing Adventure.
Greece is one of the many popular destinations for sailing and island hopping. This country is rich in history and character and it never fails to attract many visitors from all over.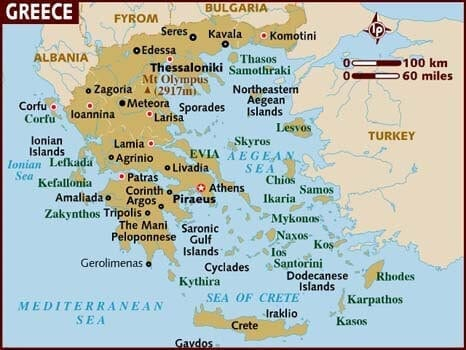 Greece and Its Sailing Weather
Weather
The weather varies from each island group. The most challenging is considered to be in the Dodecanese. The Meltemi, Greece's prevailing wind, causes this turbulence. It is interesting to note that the Meltemi always blows from the Northeast of the Sporades. This makes navigation of the islands difficult when heading up north.
The Mediterranean climate is generally sunny and hot during the hight of the Summer. It can relied up to be "one layer cooler at sea" which can make the heat pleasantly bearable, especially when mixed with a sea breeze.
Your Grecian Odyssey Beckons
Experiencing Grecian sailing guarantees immense fun and unforgettable memories. Sail Checker is more than happy to help out in realizing this wonderful odyssey
Popular Sailing Venues
Greece is a small country in Southern Europe bordered by Albania, the Republic of Macedonia, Bulgaria, and Turkey. This sailing destination is bounded by the Aegean Sea on the east, the Ionian Sea on the west, and the Mediterranean Sea on the south.
The Greeks were well-known for being "masters of the sea". They were traditionally recognized as excellent seafarers and are still regarded as such to this day.
Visitors would certainly be entranced by the beauty that Greece offers. The 1,400 islands alone are more than enough to satisfy the most enduring sailing enthusiasts.
Location
The country is made up of five island groups; namely, the Ionian Islands, the Cyclades, the Saronic Islands, the Dodecanese, or the Sporades Islands. For most navigators, however, the Ionian Islands present good island getaway to start with.
The Ionian Islands are home to two main yachtcharter starting points: Corfu and Paxos. They boast of lively resorts and traditional fishing villages. These characteristics make the Ionian Islands an interesting sailing locale.
Great Variety
Other islands to visit would be Paros for exploring the Cyclades including the islands of Naxos, Mykonos, and Santorini which are popular tourist destinations, Athens for exploring the Saronic Islands including the islands of Aegina, Poros, Hydra and Spestus which are easily accessible from the capital, and Rhodes.
The Dodecanese is central to Rhodes and houses an attractive old Medieval town. Kos, Patmos, Astipalea, Kalimnos, Karpathos, Kasos, Leros, Nisyros, Symi, Tilos and Kastelorizo are easily reached from the Dodecanese.
The Sporades Islands boast of wonderful beaches, cosmopolitan culture and relaxed life. Skiathos is one of four ideal places to sail into. The other three are Skopelos, Alonissos, and Skyros.