Specialist Sailing Insurance
Specialist sailing insurance that covers sailors when away on their sailing adventures is hard to come by.  Using specialist sailing cover is highly recommended as many standard policies do not cover everything you might expect. How many standard insurance policies will cover you for being heli-lifted off your boat?
Comprehensive Yacht Charter Insurance Online
Charter Insurance & Deposit Insurance - For Skipper & Up to Nine Crew Members
Take a good look at the packages Basic, Silver, Gold and Premium to see what will suit your needs. Next, decide whether you need the optional product Bond Plus supplement with your Charter Insurance. While the rest of the insurance cover remains unchanged, Bond Plus increases the existing bond insurance by additional 3000 €.
You can also book the product Bond Plus separately from the rest of the offered packages right up to the day of departure.
After selecting a package, you have still the option to deselect the deductible in case of damage for a premium supplement.
Nice Options:
Can be broken up into charter insurance and deposit insurance.
No requirement to have charter insurance to have bond insurance.
Killer Feature:
Liquidation insurance for operator and broker.

Yachtsman's Single and Annual Travel Insurance
Underwritten by Lloyd's of London underwriters, providing you with peace of mind and security when you need it most.
Includes offshore sailing, racing and event fees. Annual policies also include non-marine related trips abroad too:
Simple online application, payment and documentation
Personal Accident limits up to £50,000
Medical & Repatriation limit £5,000,000
Personal Liability limit £2,000,000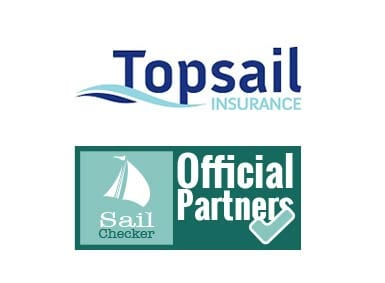 Yacht and Motorboat Charter Excess waiver
Topsail Insurance can provide you with this Charter Excess Waiver cover with your Yachtsman's Travel Insurance.
What is Excess?
Quite simply, if you hire or "charter" a boat and it gets damaged or stolen, you may be required to pay the 'Excess' (or "deductible" or lose a "deposit") and this is the amount of money that you have to pay in the event of an insurance claim.
What is Charter Excess Waiver Insurance?
Charter Excess waiver insurance is an additional cover, which protects you from these 'excess' costs you would otherwise have to pay.
Here's an example:
Let's say your charter boat is involved in a collision and it costs £2,000 to repair the damage. Under the terms of your charter agreement, you have to pay an 'excess' of £500 to the Charter company or boat owner, and their insurance company pays the rest of the repair costs (£1,500). If, however, you have – 'excess insurance' – you won't have to pay the £500 and only pay the standard travel policy excess.