Lycian Sailing Itinerary - Yacht Charter Turkey
The East meets the West in a place full of colours.
 Why Choose a Lycian Sailing Itinerary?
Because Marmaris is suitable for less experienced and intermediate sailors. You will find 2 very different 1-week routes. Sail where the Eastern culture meets the Western culture.
The clear blue colour of the sea comes from the bright sunshine bouncing off the golden sands and rocks in scenic coves – this is a fabulous part of the world to discover as part of a flotilla holiday.
From Marmaris, an alternating fortnightly route, sail South East to Gocek and Fethiye to explore the fascinating coastline en route.
Whichever route you choose, you can be assured of a warm welcome, a great local cuisine and some fabulous sailing.
Lycian Sailing Itinerary - Yacht Charter Turkey
The East meets the West in a place full of colours.
Bozburun Route
Day 1
Arrivals in Marmaris – Explore the bazaar, the shops and an endless choice of restaurants.
Day 2
Ekinçik – Enjoy great food and panoramic views from the lively hillside restaurant.
Day 3
Kapi Creek – Utter relaxation in this pretty bay.
Day 4
Independent sailing – Why not try the picturesque coves at Cold Water Bay or Karacaören?
Day 5
Yacht Classic – Bay of Fethiye enjoy a bit of luxury!
Day 6
Fathom Bay – Why don't you throw a beach party with BBQ and drinks in this beautiful bay?
Day 7
Fethiye – A bustling port with great shopping, and a host of good places to eat. Visit the fish market and ancient Telemessus.
Marmaris Route (Caunos Route)
Day 1
Arrivals in Fethiye – explore the beautiful town and have dinner at a seaside restaurant.
Day 2
Sarsala Creek – Time to take a swim in the clear waters or just relax in a tree slung hammock before the Punch Party. After savouring the delights at the family run restaurant. You can stock up on local honey.
Day 3
Cold Water Bay – Enjoy a great sail across the bay then enter the hidden cove that is Cold Water Bay. From here it's a short walk to the time capsule of an abandoned Greek village or have a refreshing swim in the spring cooled bay.
Day 4
Tomb Bay – A pleasant reach across Fethiye bay to our evening anchorage. Take a stroll to the Lycian Tombs.
Day 5
Ekincik – after a refreshing swim, enjoy the panoramic views from the sophisticated restaurant.
Day 6
Head to Ekincik for a trip up the Dalyan River or sample another of the many beautiful spots around the Gocek Bay area.
Day 7
Marmaris – visit the bazaar for souvenirs or take a Turkish Bath before our farewell dinner and a chance to compare experiences with new-found friends. Those staying on for another week can head for Kumlu Buku with it's choice of restaurants, Turunc, popular with watersports enthusiasts, or Gerbeske, site of a Byzantine trading post
Indicative Yachts and Prices
Oceanis 323 (Comfort): 1-week prices from £ 1095
Oceanis 343 (Comfort): 1-week prices from £ 1349
Bavaria 37 (Super Premier): 1-week prices from £ 1695
Oceanis 40 (Comfort): 1-week prices from £ 1849
Cyclades 50.4 (Comfort): 1-week prices from £ 2599
Bavaria 50 (Comfort): 1-week prices from £ 2949
*All prices are per boat, for one week. There are more yachts and prices available, so if you are interested in a Western Lycian sailing holiday, just send us a request to info@sailchecker.com
Join us now and spend a great time around the Turkish Coastline!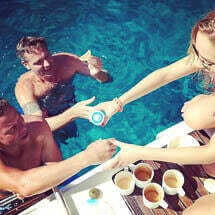 For more information on the Lycian Sailing, please fill in your details in the box.