Boat of the Year: Lagoon 450
Why people go crazy with Lagoon 450?
We thought that the popular Lagoon 440 could never be better but its successor, Lagoon 450 proves that it is a very worthy successor.
Over the years of being a yacht charter provider worldwide, we could tell first-hand that whenever a Lagoon 450 is included in the offer, she will mostly likely be picked of if not, she is being highly considered. In fact, the demand for this boat is so high, that you will seldom see it available especially if you're doing last minute sailing.
So, why do people go gaga over Lagoon 450? We compiled its key features and our client's feedback that will tell you why this catamaran was hailed SailChecker's Boat of the Year!
The Space and Interior Design
Lagoon 450 is a large comfortable boat, making it an ideal choice for a charter. With 3 or 4 double-cabins,  this ensures that there is enough room for a family or group charter.
The three-cabin version is more popular than the charter-style (4 cab) model. The main cabin comprises with suites with large head compartment, a comfortably-sized shower, spacious settee and plenty of storage. Inside its two guest cabins- you will find two berth, head and a separate shower.
To show its French heritage, you will see a U-shaped galley with lots of counter space. You will be impressed how thoughtful the makers were when designing this boat for including dish drainers built in a cabinet and storage rooms in self-latching cabinets and drawers. There is also a second fridge that can be doubled as a freezer.
The interior decor nicely compliments the layout. Usually, the light wood and fabric accents insinuate a clean and inviting appearance. It is an epitome of contemporary design with excellent and elegant taste.
The Flybridge
One of Lagoon 450's notable feature is its raised flybridge. This is a classic build that experienced sailors have loved for many years. Its located 15 feet above the waterline, just over the interior cabin. Aside from giving great visibility, it also can be used as an additional sunbathing spots with the trampolines and the foredeck.
Other Features
Natural lighting and ventilation in all areas.
An interior placement of a remote navigation station. This allows operation whilst being protected from inclement weather.
Power and maneuverability made possible by twin screws. This makes handling easier than expected despite the boat's size.
A special bridge deck undercarriage.
This catamaran moves well, even in light air but is at home in trade wind type breezes around 20 knots.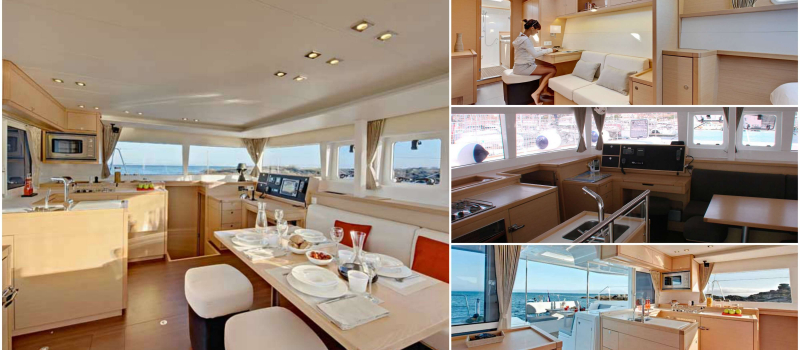 Charter Options
She is available in many worldwide charter location, here are some average quotations.
Bareboat Yacht Charter Greece – Lagoon 450 3 Cab in Kalamaki from €6,723(click for a Quote)
Bareboat Yacht Charter Greece – Lagoon 450 in Corfu from €6,525 (click for a Quote)
Bareboat Yacht Charter Croatia – Lagoon 450 in Marina Zaton from €6,093 (click for a Quote)
Skippers can be added for around €150 per day and clearing is around €100 per charter.
Your View
Have you sailed on a Lagoon 450?  Or would you like to!  Tell us what you think below.