Sailing Party in North Greece
Celebrating my sister's birthday with Athenian Yachts
Sailing party in North Greece – An unforgettable experience for all of us
We have many people interested in sailing party ideas and reviews, either to celebrate their birthday or an anniversary or even to organise a bachelor/hen, so I wanted to share my sailing experience in North Greece with you. 
It was my sister's birthday and we decided to make this day for her so special that she will be remembering it for the rest of her life. Our hometown is Kavala, a picturesque city in North Greece. We knew that there are many people that sail from/to here regularly but have never tried it ourselves. Our partners, Athenian Yachts, offer quality sailing holidays in North Greece and we decided to go with their beautiful Sun Odyssey 49i, Fedra.
*If you have any yacht charter reviews to share with us, just send us an email to info@sailchecker.com and you might be featured on our blog.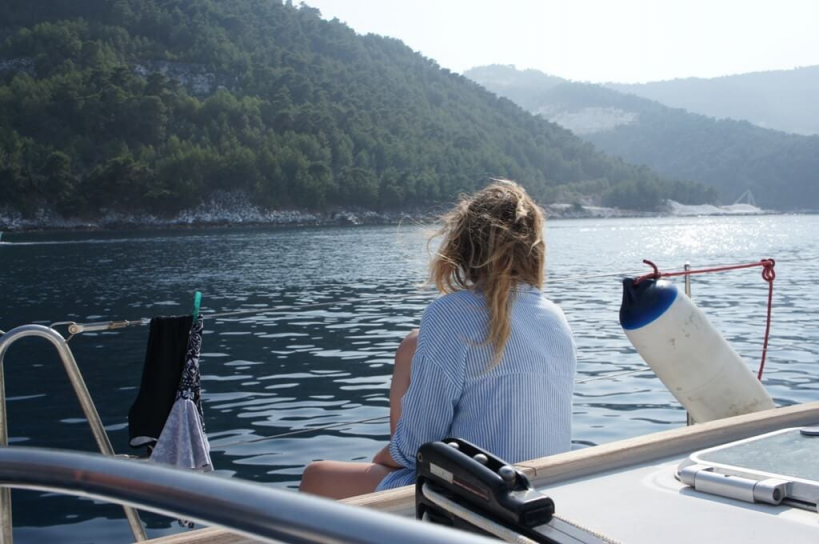 The concept Throw a sailing party and swim in the emerald waters of Thassos Island.
More and more people are interested in throwing a sailing party and we thought that it would be great to experience it ourselves. too.
You might think that it's very time-consuming and that you might not be able to organise it to the smallest detail, but I can tell you that it's much easier and more fun to organise, comparing to a conventional party at home or at the beach. You can do your shopping 1-2 days before, cook some quick dishes in the morning before you charter, just pack your stuff and you are ready to go.
We had everything prepared; birthday cake ✔, candles ✔, bubbly ✔, pirate-themed decoration ✔, swimwear ✔, snacks ✔, music ✔ and of course our best mood ON!
We stored all our bags in the yacht's salon and we had plenty of space under the bimini (big sun shade at the back), where there was also a sitting area with convertible table. We decorated the exterior and placed everything on the table.
When my sister arrived everything was ready for our sailing party to begin!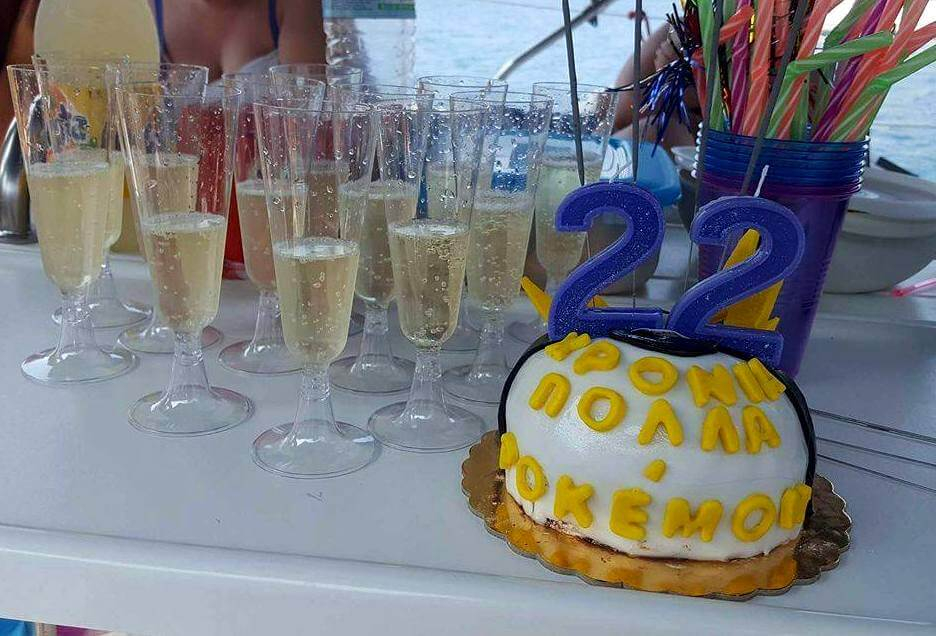 The yacht A Jeanneau Sun Odyssey 49 by Athenian Yachts was all we needed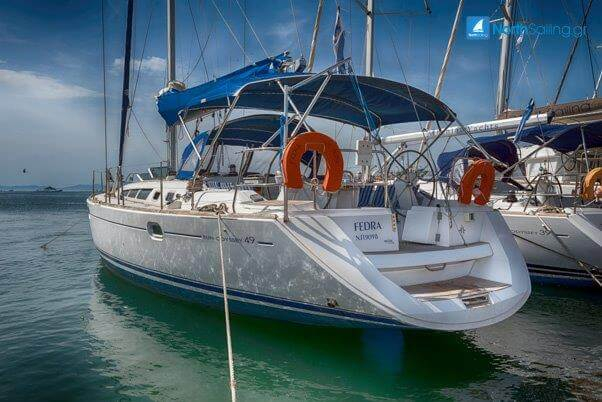 The Jeanneau Sun Odyssey 49, Fedra, a very well maintained 2006 yacht, was our selection for this event – and she didn't disappoint us. Perfect for our group of 10, the yacht's 15m length was exactly what we needed to relax and enjoy our cruise.
As spacious as she needed to be, Fedra, could perfectly accommodate 10 people on board for a short charter. She has 4 double cabins with ensuite bathrooms and a large sofa in the salon, which can sleep 1-2 pax. The kitchen had all the equipment needed and also had 2 big fridges and a refrigerator, making things much easier to us.
The comfortable sitting area on the deck was genuinely covered by a large bimini and offered us the shade we needed on a hot summer day. There were, also, 4 sets of snorkelling equipment provided (2 sets for adults and 2 for kids). Furthermore, the yacht was equipped with a tender and outboard engine.
Thassos Island The green diamond in North Greece
There is a great number of sailors that visit Greece every summer. The more known areas, though, are the Ionian, Saronic, Cyclades and Dodecanese.
Sailing in North Greece will offer you nothing but excellent sailing conditions, safe anchorages, beautiful landscapes, crystal clear turquoise or emerald waters, picturesque villages, exceptional cuisine and an absolute sense of hospitality.
Thassos Island is located right opposite to Kavala. You can easily fly to Thessaloniki (SKG), rent a car or take the bus to Kavala and then get on your yacht and go to explore some of the most beautiful beaches in the Aegean Sea.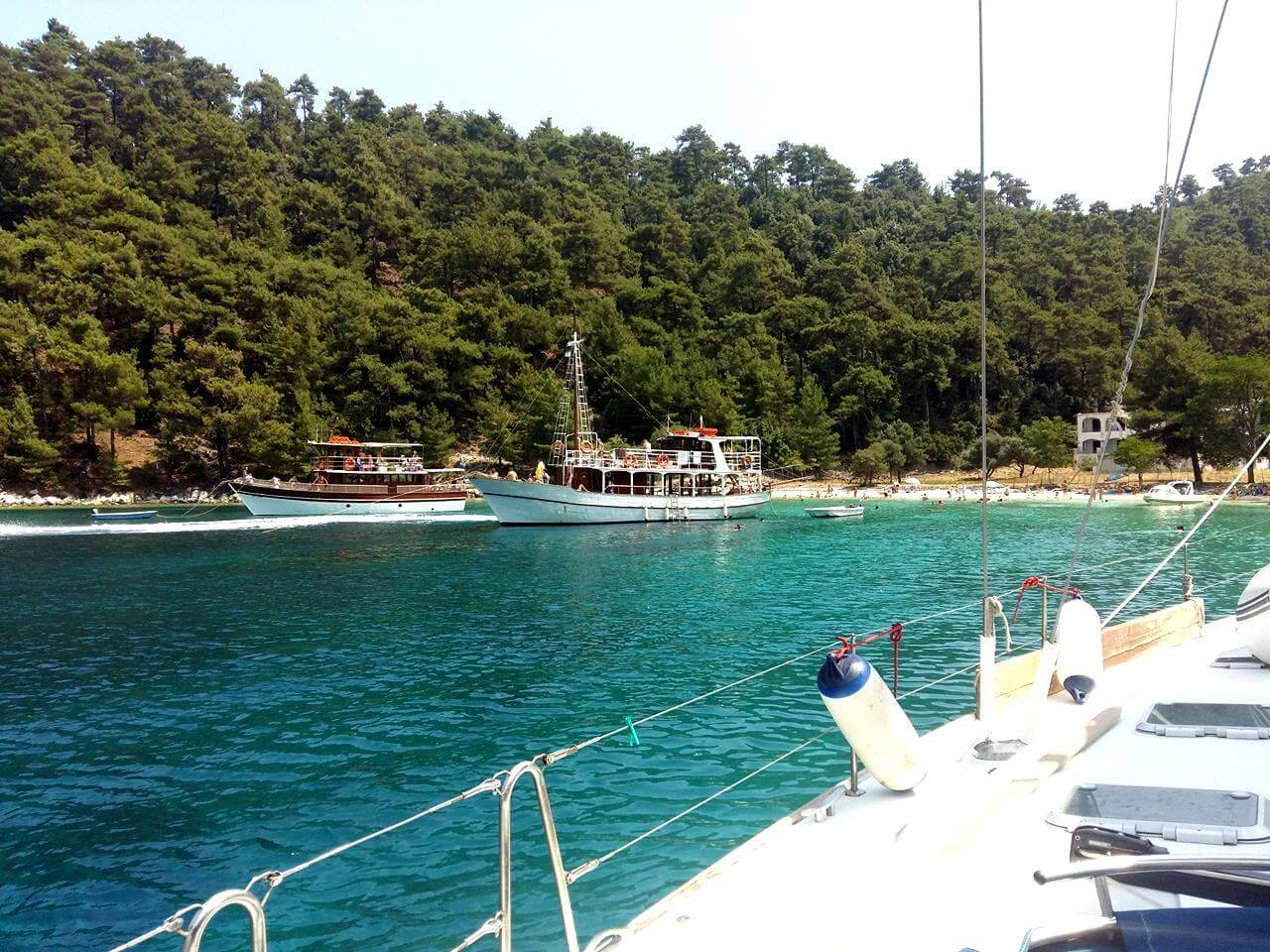 A day that we will never forget Thank you, Athenian Yachts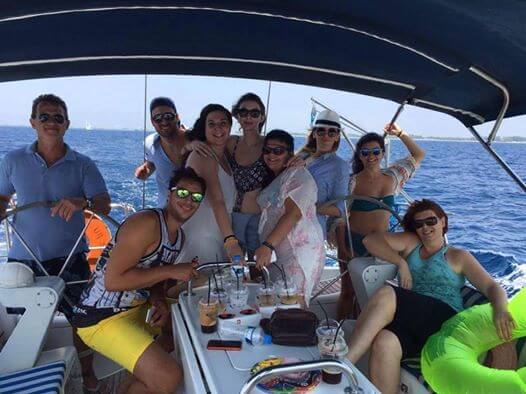 Everything we had read about throwing a sailing party was absolutely true. We had a great time sailing in Thassos even for just a day. We swam in a couple of the best beaches on the island, which were accessed only by the sea.
Athenian Yachts' base manager, Christopher, made sure that our check-in will be sorted out quickly so that we had plenty of time to prepare our sailing party and also helped us with everything we needed.
Sailing with Athenian Yachts was a great choice for us and we had the opportunity to sail comfortably and safely on a great value charter, as they offer up to 50% off on last minute or one-way bookings. Thank you!
Check out our gallery Good times come and go, but the memories will last forever!
Do you want to live such an experience? Take the chance to visit North Greece and have a wonderful time sailing in this magnificent area.

Click on the below buttons to send us your enquiry.