Carian Sailing Itinerary - Yacht Charter Turkey
Crystal Clear Waters, Golden Beaches, Countless Coves
Why Choose a Carian Sailing Itinerary?
Marmaris is suitable for less experienced and intermediate sailors. You will find 2 very different 1-week routes. All over the Mediterranean Turkish coast, you will explore amazing places. Sail where the Eastern culture meets the Western culture.
The clear blue colour of the sea comes from the bright sunshine bouncing off the golden sands and rocks in scenic coves – this is a fabulous part of the world to discover as part of a flotilla holiday.
From Marmaris, an alternating fortnightly route sails North West to Orhaniye exploring the fascinating coastline en route.
Whichever route you choose, you can be assured of a warm welcome, some great local cuisine and some fabulous sailing.
Bozburun Route
Day 1
Arrivals in Marmaris – Explore the bazaar, the shops and an endless choice of restaurants.
Day 2
Ciftlik – a chance to dine ashore in a lively local restaurant.
Day 3
Bozuk Buku – your choice of bays and restaurants in this large fjord overlooked by the ancient ruins of Loryma.
Day 4
Bozburun – the home of traditional Turkish Gulet building is fascinating to explore
Day 5
Thyssanus – visit a local village and mosque before we raft up in the ancient harbour for our beach party.
Day 6
Independent sailing – try scenic Dirsek or head for the vibrant town of Datca.
Day 7
Orhaniye – stop for lunch and a swim at Keci Buku.
Datca Route (Loryma Route)
Day 1
Arrivals in Orhaniye. Explore the town or go for swimming.
Day 2
Sailor's Paradise (Rendezvous) – an almost land-locked bay with a splendid restaurant ashore.
Day 3
Datca – the local bazaar is a great place to buy that Turkish carpet you always wanted – don't forget to barter.
Day 4
Ova Buku – A wonderful hidden anchorage – take a taxi to explore the ancient ruins of Knidos, or why not sail there.
Day 5
Sogut Limani – Try snorkelling around the ancient ruins of a sunken harbour before dining at the village restaurant with traditional belly dancing
Day 6
Independent sailing – You can either sail to the delightful Greek island of Symi or relax in a beautiful bay such as Kumlu Buku or Serce.
Day 7
Marmaris – Time to explore the fascinating bazaar and seafront before you dine in lavish surrounds in the vibrant town of Marmaris. Or if you're staying for another week, you can sail on for the beach at Ciflik, the Byzantine ruins of Gerbeske, or some watersports at Turunc.
Indicative Yachts and Prices
Oceanis 323 (Comfort): 1-week prices from £ 1095
Oceanis 343 (Comfort): 1-week prices from £ 1349
Bavaria 37 (Super Premier): 1-week prices from £ 1695
Oceanis 40 (Comfort): 1-week prices from £ 1849
Cyclades 50.4 (Comfort): 1-week prices from £ 2599
Bavaria 50 (Comfort): 1-week prices from £ 2949
*All prices are per boat, for one week. There are more available yachts and prices, so if you are interested in this Carian Sailing Itinerary, send us a request to info@sailchecker.com
Join us now and spend a great time around the Turkish Coastline!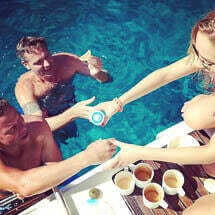 For extra information or bookings about this amazing Carian Sailing Itinerary in Turkey, please fill in your details in the box.